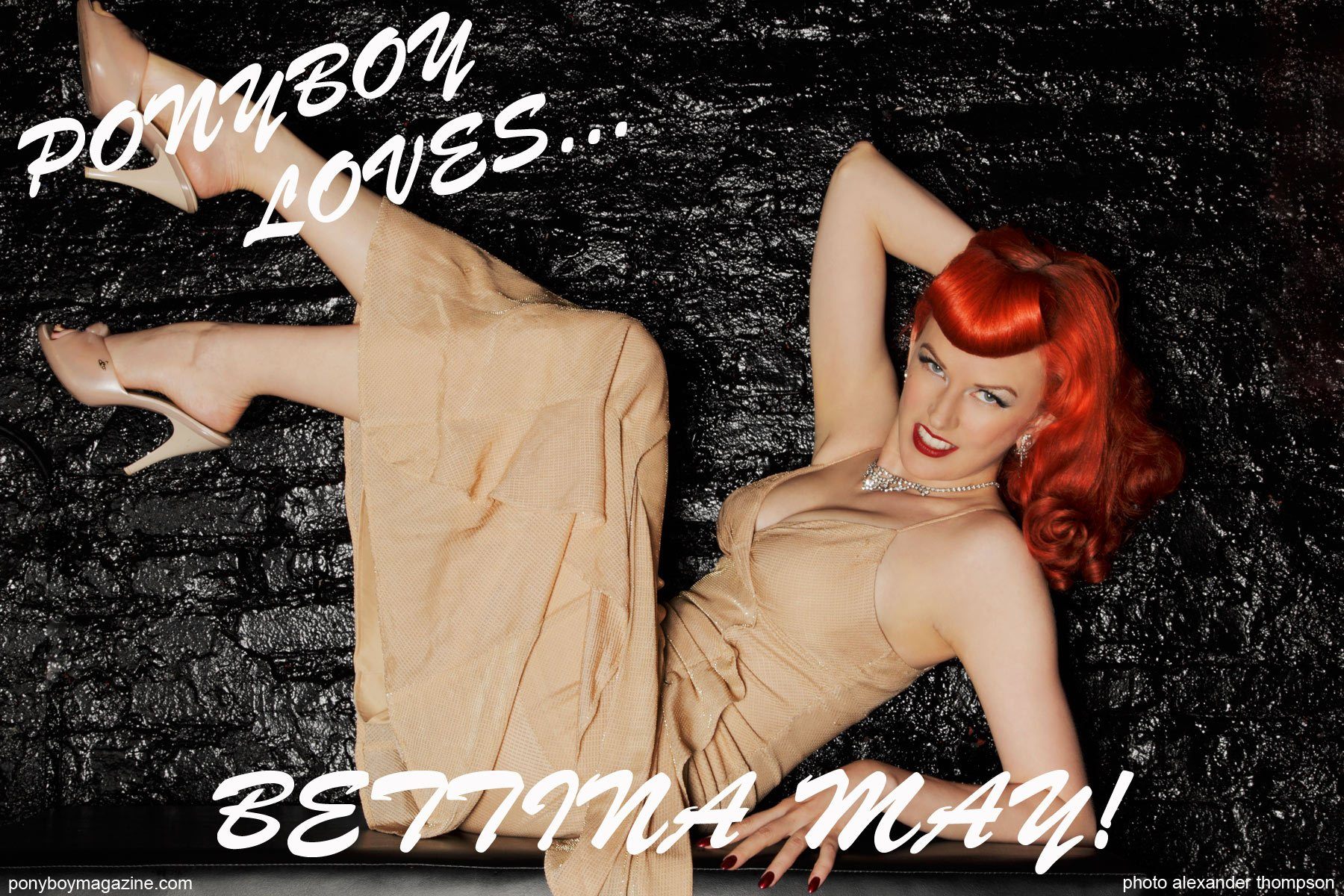 BETTINA MAY
BURLESQUE QUEEN
Bettina May. Red head. Pin-up model. Burlesque Queen. Always in demand. Always on the go. With bombshell movie star looks, Ponyboy caught up with this beauty recently before she jumped on a plane for a quick chat. All photos courtesy of Bettina May.
THE BEAUTIFUL NYC REDHEAD
40's-50's PIN-UP MODEL
PONYBOY:  You hail from Canada originally?
BETTINA MAY:  Yes, I was born in a little town in British Columbia near Vancouver and moved to Victoria to go to university. And from there I moved to New York.
PONYBOY:  How did you get into burlesque performing?
BETTINA MAY:  I got into it through vintage culture, hairstyles and outfits. I did pin-up modeling first  and through that was introduced to the burlesque world. I basically saw it as a way to explore my love of all things vintage.
PONYBOY:  It really is a true talent, not just something that anyone can do. Who are your burlesque idols?
BETTINA MAY:  I have to give a huge shout out to Dita Von Teese for bringing the modern burlesque resurgence to a more mainstream audience without diluting the art form.  I also love the work of Tempest Storm, Tiffany Carter and Bambi Jones – true legends of burlesque.
PONYBOY:  Have you always been into the  vintage aesthetic? 40-50's?
BETTINA MAY:  Yes, it has appealed to me for as long as I can remember.  I grew up watching "I Love Lucy" and "Leave It To Beaver" and couldn't wait to dress like all the stylish ladies I admired onscreen.  I dabbled with 60's and 70's styles in grade school and spent a lot of time working on perfecting hairstyles, makeup and collecting clothes from the 30's-50's.
PONYBOY:  All that glamour you have…you must get stopped in the street a lot. Do people recognize you?
BETTINA MAY:  People are definitely not used to seeing red lips and precisely coiffed hair out in public, even in New York City. So I do get a lot of attention. Once in a while people recognize me, but mostly they just think I must be someone legitimately famous. People still associate that high level of glamour that Hollywood starlets in the golden age of cinema flaunted with celebrity, so I get asked if I'm "somebody" quite a bit.  Short answer: No! Hahaha!
PONYBOY:   Are you a natural redhead?
BETTINA MAY:  While red hair runs in my family  and I prayed for years that it would come in, my dreams did not in fact come true. I took matters in my own hands.
PONYBOY:  In your burlesque career, what has been your favorite performance?
BETTINA MAY:  Oh goodness, that's a tough one!  Every time I get on stage is my next favorite because I enjoy being up there and sharing my love of dance with every person in the audience and feeling their enjoyment reflected back on me.  I think the one I'll always remember was during my first European tour in 2007. I performed in a beautiful little club in Lisbon, Portugal to a gorgeous, perfectly dressed audience of vintage culture enthusiasts. Unforgettable!
PONYBOY:  Who was your favorite celebrity to perform for?
BETTINA MAY:  Performing for Brooke Shields was my favorite experience. We got to meet her after the show. She was so lovely, genuine and sweet – everything I'd hoped she'd be.
PONYBOY:  What brought about your Bettina May Pin-up classes?
BETTINA MAY:  When I started performing I had so many ladies come up to me after shows asking me for hairstyling and make-up tips. After a while of trying to explain the finer points of a proper roller set in a loud night club to drunk fans, I decided a proper class was in order.  The first class in 2006 was a great success. And since then I've brought my class around the world and tour the US with it at least once per year.  It's been amazing to see how life-changing it can be for my students. It's truly heart-warming.
PONYBOY:  Congratulations on your green card. Any big plans for the future?
BETTINA MAY:  Thank you so much!  It seemed an impossible task, but now that the US Government has declared me an Alien of Extraordinary Ability in burlesque and pin-up modeling, I'm inspired to set much larger and loftier goals.  I'm currently booking another European tour for Spring 2014, and lots of other exciting projects are in the planning stages that I need to keep under wraps for now.
https://ponyboymagazine.com/wp-content/uploads/2013/12/BettinaMay-LOVES-SPREAD1F.jpg
1200
1800
ponyboymag
https://ponyboymagazine.com/wp-content/uploads/2020/05/Ponyboy-Banner-2F-e1589982879302.jpg
ponyboymag
2013-12-15 12:24:37
2019-01-18 00:04:43
BETTINA MAY
BURLESQUE QUEEN