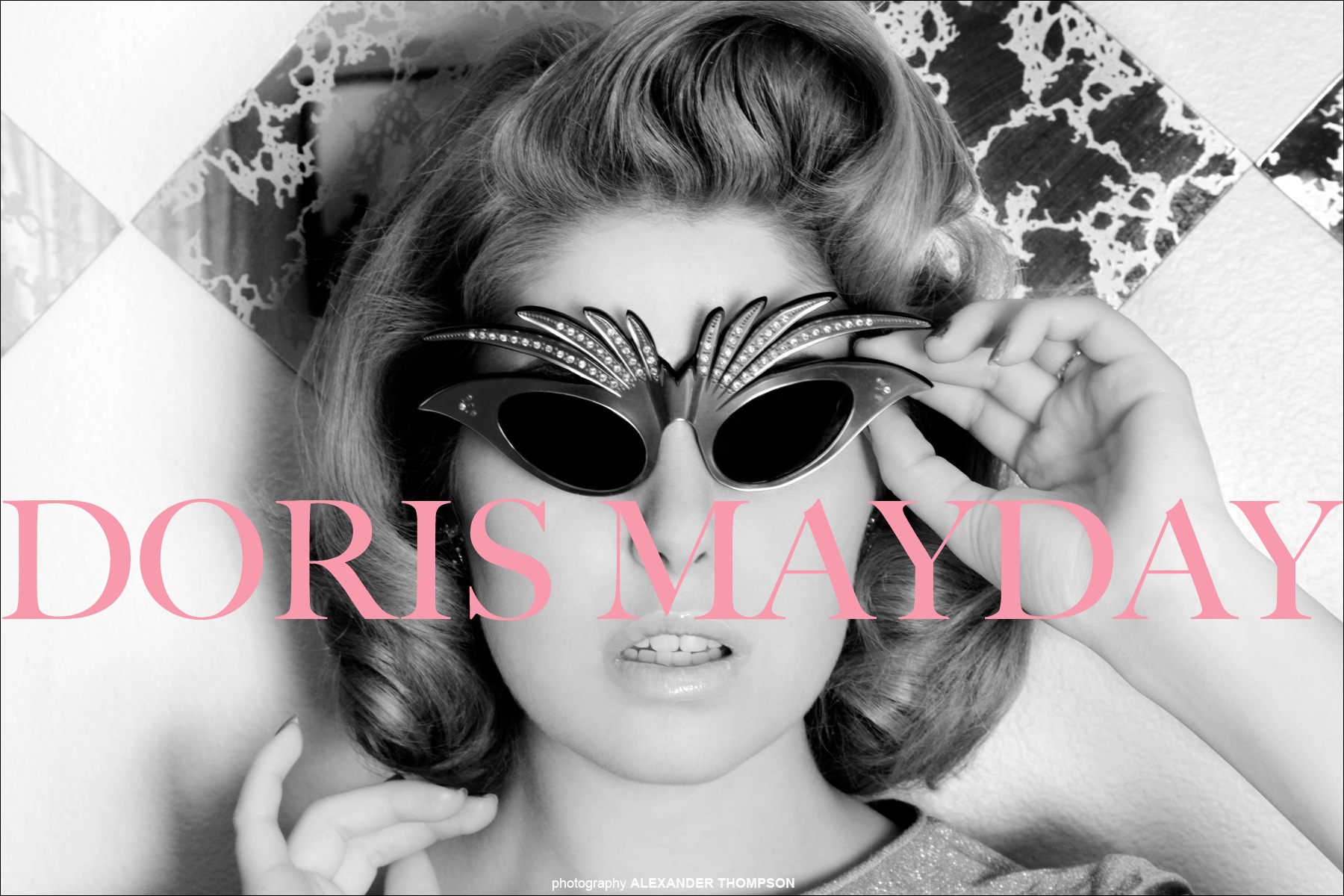 THE CULT OF DORIS MAYDAY
50's GLAMOUR GIRL
We were thrilled to photograph beautiful classic pin-up model Doris Mayday in sunny Las Vegas. Miss Mayday is a legendary presence in the pin-up/rockabilly world. Her new lean California figure looked spectacular in form-fitting dresses and capri pants. The stunning redhead had her signature glamorous 1950's look, all from her own exquistite vintage collection including lurex pieces and outrageous over-the-top sunglasses. Our lovely model Doris was shot on location at the magnificent mid-century home of Yoceline "DJ Maybelline" Lizarraga.
PONYBOY:  You hail from Las Vegas originally?
DORIS MAYDAY:  I was born and raised in Las Vegas until I was 21. It may may seem odd that I left at the crucial 'Vegas' age. But when you grow up in that city, I had been 21 since I was 16 and was ready for a change.
PONYBOY:  How did you get into pin-up modeling?
DORIS MAYDAY:  I was heavily into the rockabilly scene and got asked one day as a favor to be in a calendar since they needed a blonde who already had that aesthetic. I had never thought about modeling before and didn't think anything would really come from it. After it came out though, I started getting really great response from retro clothing companies and shoots kept coming up. I went along for the ride since I thought it would just be temporary and it would be nice to have some good photos of me to show my grand kids one day – that was almost 8 years ago!
PONYBOY:  You really resembled Anna Nicole Smith when you were a blonde. Did other people see the resemblance?
DORIS MAYDAY: I never really saw the Anna resemblance. The first people to bring it to my attention were Micheline Pitt and Laura Byrnes from Pinup Girl Clothing. Micheline said that the resemblance was the reason why I was chosen to model for them in the first place. Hah! After she passed away I would hear it pretty regularly. But when you're a blonde rockabilly girl, you get everything shouted at you. Marilyn! Anna!! Mansfield!!! Lucy!!!! Bettie Boop!!!!! (that one still baffles me).
PONYBOY:  Your newer red hair is BEAUTIFUL. Do you plan on keeping it for awhile?
DORIS MAYDAY:  I love having red hair! I keep bouncing in between shades of orange, copper and burgundy trying to find the one I love the most. But that's the great thing with red hair, you can change the shades easily without destroying your hair – usually by just washing it. I don't' think I'll be changing it anytime soon.
PONYBOY:  Have you always been into 50's glamour?
DORIS MAYDAY:  I have been completely enthralled with 50's glamour for as long as I can remember. From old movies, album covers, magazines, old family photos, nothing is more sexy and yet classic to me.
PONYBOY: You recently relocated to the west coast. Tell us how that's been.
DORIS MAYDAY: I surprisingly am enjoying living in California. Growing up in Vegas, I would come out to LA every month to visit, model, shop and go to theme parks. I had a laundry list of reasons why I would never live here including the traffic, overpopulation, pollution and the expense. A terrific job would be the only reason I would make the big move. Then I got the offer to manage the Pinup Girl Boutique in Burbank. Since living here, you understand how to avoid or accept the faults of LA. You start finding all the charm it has to offer and the rich diverse culture. You can totally be okay with traffic after getting a Disneyland season pass.
PONYBOY:  Any aspirations to be an actress? You certainly have the face for it.
DORIS MAYDAY:  I have never had a desire to act before. I always believed that was a career and commitment you had to make for yourself when you are younger and that I just missed that boat. Since moving to LA and seeing how things really work though, apparently you don't need to quote Shakespeare or have go to theatre camp since 5 years old. But it pops into my head from time to time. To be honest, I'm terrified of rejection. I cry easier than I care to admit. That industry is filled with 99 "No's" before you here a "Yes". I'm pretty sure I would need to get much thicker skin first before signing up for acting lessons.
PONYBOY:  Who are your role models? Who inspires you?
DORIS MAYDAY:  Walt Disney, Jim Henson, and my mother Cindy. It is impossible to not be inspired by the entrepreneurial spirit of Disney. I am also practically green with envy of creative people and Jim Henson made magic out of felt and ping pong balls for goodness sake! The older I get, the more my mother impresses me. My respect grows for her with every new chapter in my life. How did she do it? She married her high school sweetheart and is still happily married after 36 years, with three successful daughters, a college education and a great job. As an adult, going through my own struggles, I have  realized the amount of work it all takes. She gave me such a happy supportive childhood that it all seemed so effortless. I love coming to her for advice. She really has the "mother's touch" and I hope one day I can be the woman she is.
PONYBOY:  Your favorite shoot so far? And worse?
DORI MAYDAY:  I can't pick just one! Shooting at Cicada Club for Pinup girl Clothing and Rick Baker's studio this year is definitely up there, as well as getting to shoot with Shannon Brooke in Palm Springs. Years ago I shot with Formento + Formento in downtown Vegas and those images are still some of my favorites. Alexander Thompson shoots are obviously the best, too! Though the first shoot with Alexander could of easily been the worse shoot of my life, due to some personal issues that were happening. Instead he turned my drama and emotions I was going through into some truly beautiful and raw photos that I cherish.  The worst shoot hands down was a catalog shoot for Bettie Page with a new photographer. He constantly was telling the other models to "Be like Doris! Why can't you look like her? You're doing it wrong!" He was making me coach them and using me as the example. It was incredibly aggressive and negative, not to mention awkward and made the other models cry. I grew up an ugly fat kid. I will NEVER be comfortable with someone telling me that I'm "perfect" or putting me on a pedestal. I've never wanted to leave a shoot so badly. God he was the worst! Needless to say we never hired him again.
PONYBOY:  You're still quite young. Any plans for taking over the world? Or will you be content to be married with kids in an apron…50's style?
DORIS MAYDAY:  I want both, dammit! I would love to make more of an impact on the world with whatever path I choose to take. But I know family life is an ultimate goal for me. I plan on doing business meetings while wearing my apron.
https://ponyboymagazine.com/wp-content/uploads/2013/11/DorisMayday_Spread_1FF_FINAL.jpg
1200
1800
ponyboymag
https://ponyboymagazine.com/wp-content/uploads/2020/05/Ponyboy-Banner-2F-e1589982879302.jpg
ponyboymag
2014-01-12 08:17:56
2018-02-19 09:28:57
DORIS MAYDAY
RED HOT