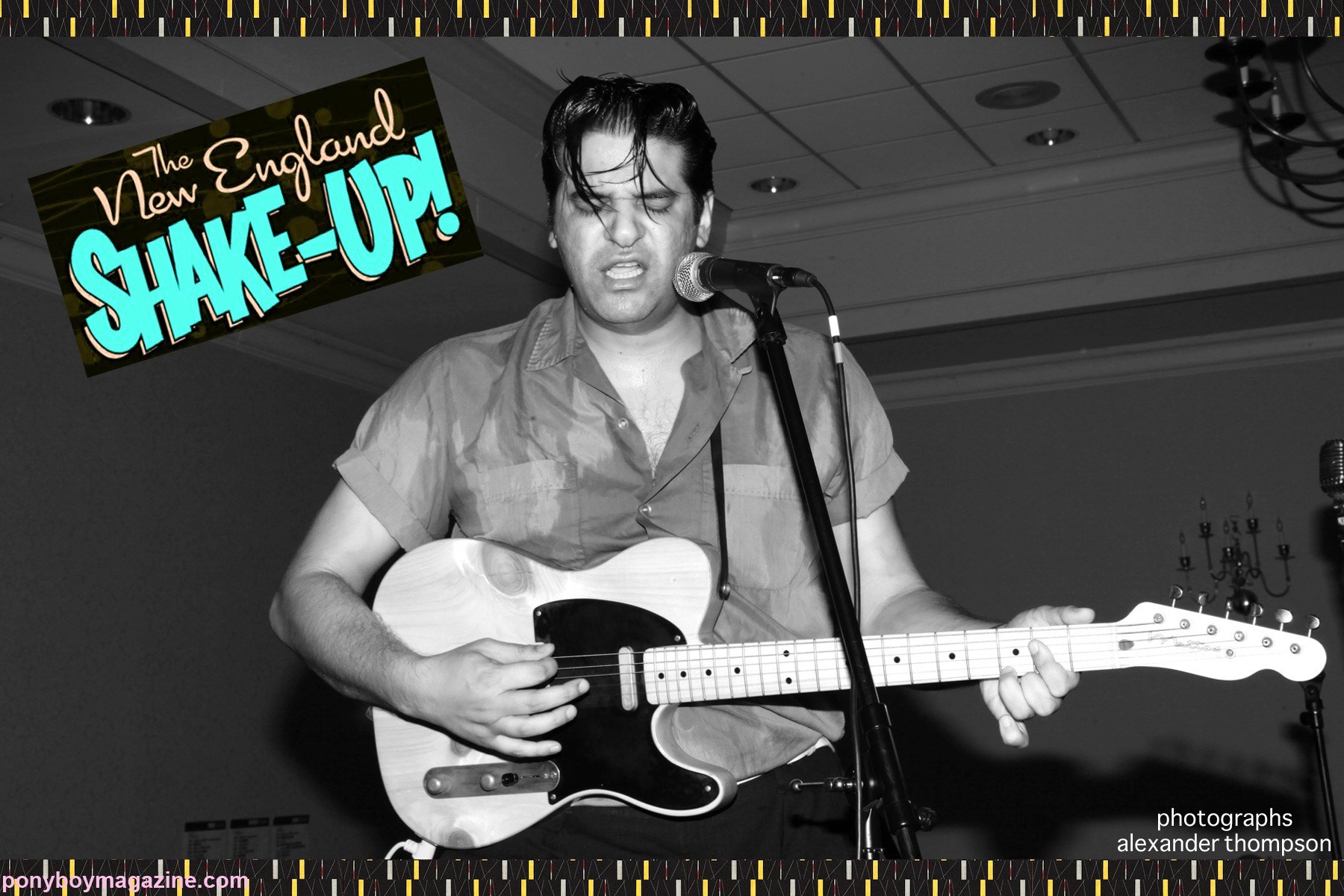 SHAKE-UP!
ROCKABILLY WEEKENDER
NEW ENGLAND SHAKE-UP
ROCKABILLY WEEKENDER
Boston based New England Shake-up founder Beck Rustic has launched her first East Coast Rockabilly weekender. And it's all about the music, including incredible performances by bands such as the Racketeers, the Rip'em Ups, Bloodshot Bill, Jittery Jack and the Screaming Rebel Angels. We caught up with the very busy Miss Rustic for questions about her weekender and the East Coast rockabilly scene.
PONYBOY:  Please tell us your inspiration for starting this weekender?
BECK RUSTIC:  Well, I've always loved music and have been booking shows around Boston for quite a while, just one–off regular shows. This seemed like a natural progression for me to do something that stretched out over a weekend, in a larger venue, to a larger group of people that are excited about the music that I love. And to be honest it's nice going to a weekender that I can drive to instead of hopping on a plane!
PONYBOY:  Prior to yourself, who do you feel on the East Coast has been the most successful at doing something steady in this genre?
BECK RUSTIC:  DJ Easy Ed has been booking great shows in Boston for years, and has a radio show as well. Laura Rebel Angel in New York puts on great shows. And Rebel Night is a great monthly event in NYC.
PONYBOY:  Who are your past favorite rockabilly bands/musicians?
BECK RUSTIC:  Mac Curtis, Glen Glenn, Warren Smith, Al Ferrier, Billy Lee Riley, Carl Mann, Buddy Knox, Dale Hawkins. There are so many, I could go on and on really!
PONYBOY:  And present day rockabilly bands?
BECK RUSTIC:  I got really lucky the first year of the Shake-Up. I was able to book bands that I really love like the Bloodshots, Jittery Jack, Rocky Velvet, the Racketeers, and the Garnet Hearts. Everyone on the bill that played year one are bands that I listen to regularly. I also booked acts that aren't really rockabilly, but are really high energy, like the Rip 'Em Ups, Bloodshot Bill and Dollar Bill. There are a TON of great bands out there right now. Everytime I get asked this sort of question, I feel bad as I can't list everyone. The list would be pages long!
PONYBOY:  Why do you think the 50's rockabilly movement is so big on the West Coast, and not on the East Coast?
BECK RUSTIC:  I've thought about this a lot. I think quite a bit of it is because there seems to be a lot of younger kids experiencing the music scene on the West Coast. We have had less of that happening here the last few years. Those young kids that come out are really excited as they discover this type of new music. Unfortunately many of us take the scene for granted and we need these kids to help us from getting jaded. I think without that youth, things start to feel stale and people don't go out as much. This hurts ticket sales for touring bands to justify hitting the East Coast cities. But recently I have been seeing some new faces out at shows and I think the East Coast is on the beginning of an upswing. So that's good!
PONYBOY:   Can you give us a hint of any bands/dj's you might have booked for next years Shake-up?.
BECK RUSTIC:  Nope! I'll be announcing that in January. But I will say that I got really lucky again with the line-up for the second year. There are going to be fantastic musicians on the Shake-Up stage in 2014, as well as really good DJs for the late night record hops.
PONYBOY:  Do you go abroad for any of the big weekenders?
BECK RUSTIC:  I haven't as of late, what with airfare costs being so expensive. The Shake-Up eats up all of my time, as well as everything in my wallet!
PONYBOY:  Have you been to every Viva Las Vegas?
BECK RUSTIC:  I've been to the last ten Viva's. I'm 32 years old, so I wasn't old enough to attend the first few years!
PONYBOY:   Is Tom Ingram aware of you? Has he shown any support to your event?
BECK RUSTIC:  He and I have emailed back and forth.
PONYBOY:  Lastly, who would be your ultimate dream band for the Shakeup?
BECK RUSTIC:  I'm not saying, as I don't want to jinx it!
https://ponyboymagazine.com/wp-content/uploads/2013/12/SHAKEUP-OPENER-1FF.jpg
1200
1800
ponyboymag
https://ponyboymagazine.com/wp-content/uploads/2020/05/Ponyboy-Banner-2F-e1589982879302.jpg
ponyboymag
2013-12-25 11:36:36
2018-02-19 09:28:57
SHAKE-UP!
ROCKABILLY WEEKENDER