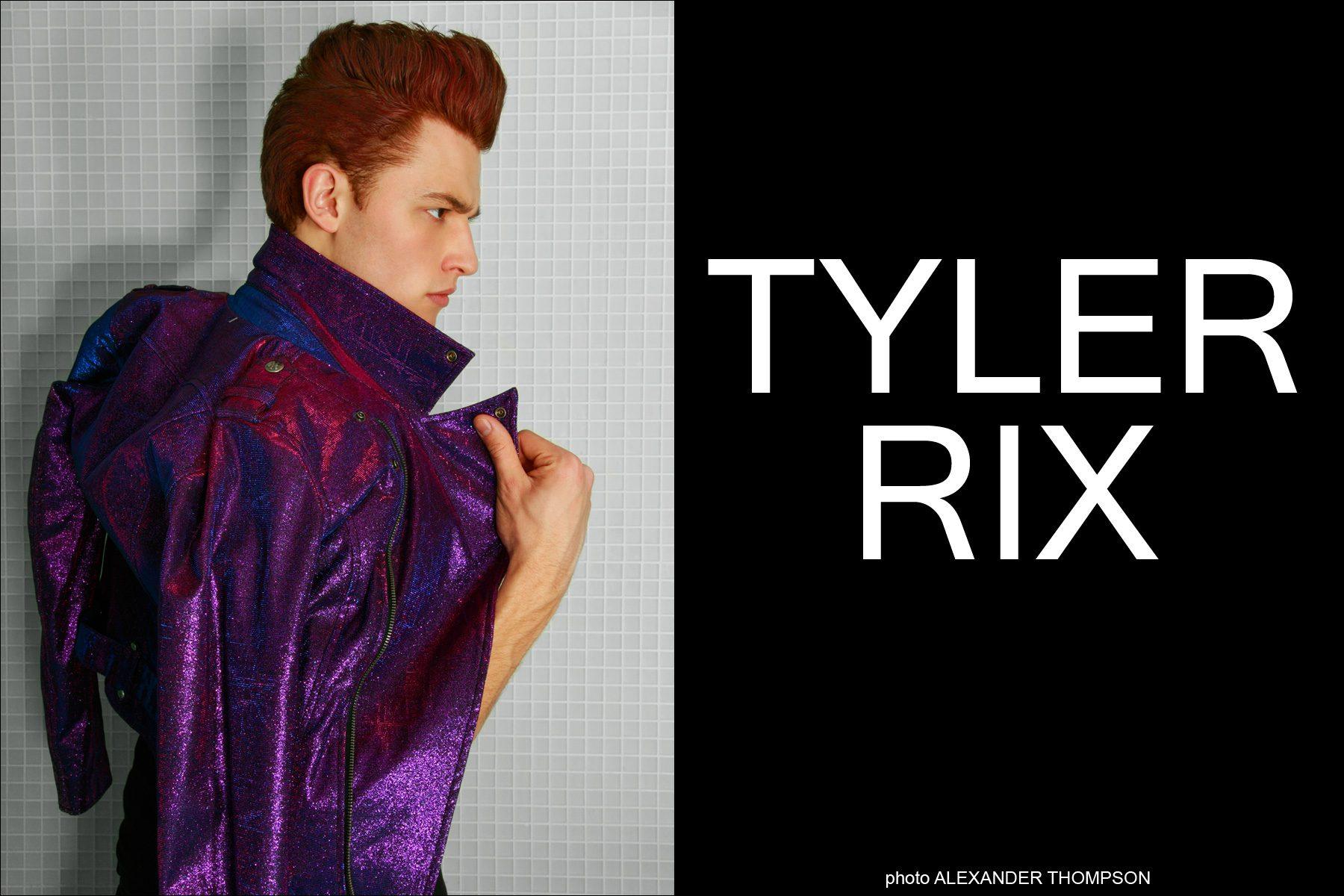 TYLER RIX
MODEL/MUSICIAN/ATHLETE
Ponyboy caught up with Tyler Rix, model and musician on-the-go to chat about getting discovered, being an olympic torchbearer, walking for Donatella Versace and posing for the Mr. Turk look book, all at a very young age.
PONYBOY:  You're a very accomplished young musician. Please tell us how you got into music.
TYLER RIX:  I started playing the saxophone at age 9 as something different to playing so much football. I was signed to Premiership Soccer Team, West Ham Academy aged 7. I passed my grade 8 by the age of 13. As a child I joined the prestigious Guildhall School of Music and recorded my number one selling classical saxophone album Ascent with Universal Records at age 15.
PONYBOY:  How were you chosen to be the final torchbearer for the Olympic Games 2012 in London?
TYLER RIX:  The Olympic 2012 theme was "Inspire a Generation". Of the 8,000 Relay Torchbearers, I was considered to be the teenager who best represented this and was selected by Coca Cola.
PONYBOY:  That mush have been quite a high?
TYLER RIX:  Standing on stage in front of 80,000 people was INSANE. They were chanting "Tyler! Tyler!" I will never forget it. I think Jonathan Edwards was the most nervous after I took the microphone off him to do my speech. HAHA!
PONYBOY:  How did you get into modeling?
TYLER RIX:  I was on a bus in London and this guy was looking me up and down. After I got off the bus, he chased me down the road to tell me he was a model scout and it all went from there!
PONYBOY:  Do you find it a struggle balancing both music and modeling?
TYLER RIX:  Yes. Modeling is SO last minute and it kills me! You always have to be ready to run out of the house for a shoot, so it distracts me from my song writing. In fact I should be composing right now!
PONYBOY:   Which do you prefer?
TYLER RIX:  I love traveling the world and meeting new people through the modeling industry. It inspires me. Performing at concerts and having people sing your own songs back to you is a crazy feeling, so I wouldn't be doing both if i didn't love them both.
PONYBOY:  You recently walked for the House of Versace. How was that?
TYLER RIX:  Donatella was checking the final line up, and walked over to me and said "Thank you so much for being part of my show Tyler, I really appreciate it." DONATELLA VERSACE said that to me! Madness! As I was exclusive, I spent the whole week in the Versace House doing lots of fittings, rehearsals, and eating so much amazing food. It was very special and one show that I will never forget. I hope I get to do it all again next season.
PONYBOY:  What's been your best modeling job so far?
TYLER RIX:  I shot the Mr. Turk look book out in Palm Springs which was by far my favorite shoot. After being picked up from the  airport, I was taken to a diner (burger, fries and a strawberry shake, of course), and then back to the hotel for a swim, jacuzzi and lovely dinner with the other 23 members of the team. Then at 5;30AM, we were driven up the side of this rocky mountain overlooking the whole of Palm Springs, where we watched the sunrise and then jumped into the pool with the sun shining. 104 degrees. Having Mr. Turk on my shoulders for a water fight topped off an incredible day of shooting. Wish they were all like this!
PONYBOY:  What was your worst modeling job?
TYLER RIX:  Well as all models know, you always shoot Spring/Summer collections in Autumn/Winter and vice versa. So swimwear in a frosty park in central London in late November is always a killer. But that's fashion baby…haha.
PONYBOY:  What plans do you have for your music career in the near future?
TYLER RIX:  I started writing and singing pop music last year, and have major plans to take it to Top of the Pops. I want to be the first person to have a number one hit in both the classical AND pop charts!!!
PONYBOY:  And 10 years from now? What dream/goal do you see for yourself?
TYLER RIX: I want to be touring the world as a singer, songwriter and saxophonist while flying around the world, shooting campaigns and adverts along the way. And one day starting my very own Tyler Rix brand.
https://ponyboymagazine.com/wp-content/uploads/2013/11/TylerRix-SPREAD1F.jpg
1200
1800
ponyboymag
https://ponyboymagazine.com/wp-content/uploads/2020/05/Ponyboy-Banner-2F-e1589982879302.jpg
ponyboymag
2013-12-15 23:49:24
2018-02-19 09:28:57
TYLER RIX
MODEL