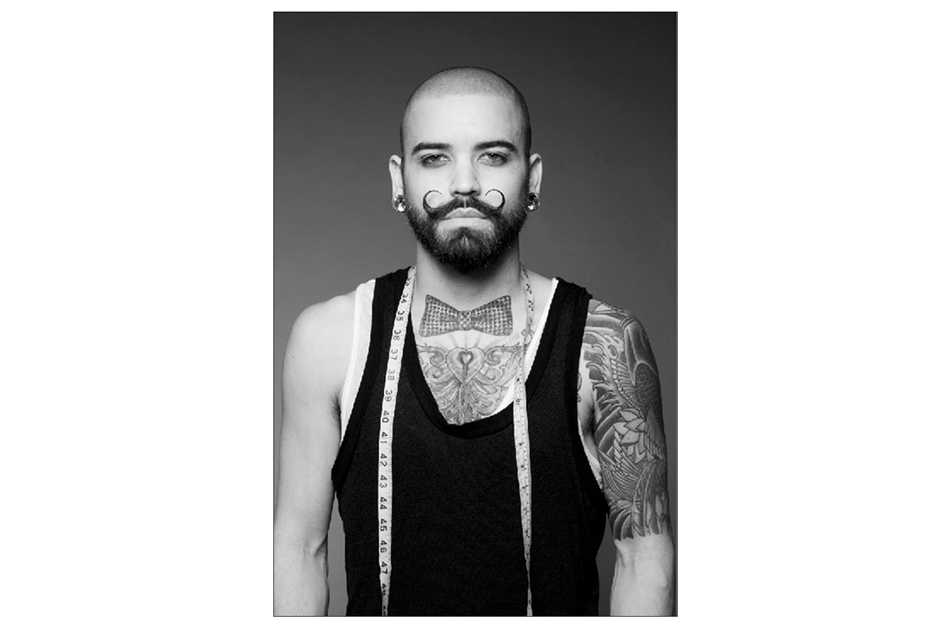 ASHTON HIROTA
THE MONOCHROMATIC DESIGNER
Ashton Hirota is the designer/stylist for the Ashton Michael label. Born and raised in Los Angeles, Ashton first sprung onto the fashion scene at the young age of nineteen, with his first LA fashion week show. That quickly led to boutiques picking up his line including Patricia Field and Fred Segal. The rest is fashion history. Ashton has gone on to making one-of-a-kind fashion forward creations for performers including Will.i.am, Nicki Minaj, and Usher. We spoke to Ashton in-between client fittings, the opening of a new shop, and prepping for his Ashton Michael Spring/Summer 2014 collection.
PONYBOY:  You're making quite a mark not only in the LA fashion scene, but universally as well. Tell us how you got into designing clothing.
ASHTON HIROTA:  When I was thirteen years old I was a child model/actor. I grew up with a passion for clothing. Being able to play "dress up", I realized at a young age the power that apparel can have on someone's state of mind. As I got older I just fell into it. By the age of nineteen I started my first company and never looked back.
PONYBOY:  Your collections seem very dark and futuristic. Is that how you would describe the aesthetic for your clothing designs?
ASHTON HIROTA:  I've been called a few things. "Urban Goth". "Future Punk". "Weird". Hahaha.  The terms have been across the board. I just call it ASHTON MICHAEL!
PONYBOY:  What inspires you to design clothing?
ASHTON HIROTA:  TEXTURE. I love working with monochromatic texture. Creating a 3D shape out of flat objects triggers me. I typically work in black, nudes, grays, etc. There is something about these colors that will last forever in a closet and become a staple.
PONYBOY:  You have a big celebrity clientele. Who is  your favorite to work with?
ASHTON HIROTA:  My two favorites to work with are Will.i.am and Rico Love. Will has been a long time client, and has become a man that I admire and respect so much. He's incredibly talented, smart, and one of the kindest people I know. He really is about building an artist community and is a huge advocate in team playing. I am blessed to have him in my life and work with him on the regular. Rico Love is another whom I admire a lot. Most people know his music re-writes, and he produces.  Yet not as many know the man behind these chart toppers. I can relate a lot to him in that respect. Being the man behind what people admire, but not knowing the source is incredible. Both of these men are willing to take risks in fashion and still keep masculinity paired with it.
PONYBOY:  You just opened a new space in Hollywood?
ASHTON HIROTA:  Correct. I had worked out of the same shop in the heart of Hollywood for the past 9 years and just four months ago I moved four doors down and opened up the first official ASHTON MICHAEL ATELIER. It's a creative workspace and showroom/store front (with a full bar of course).
PONYBOY:   Who would be your ultimate dream client to design for? That you have never worked with.
ASHTON HIROTA:  I used to say Cher, just because she is so iconic and really can do no wrong. She is such a powerful woman who doesn't give two shits about what people think about her. That mentality is what I want people to feel like when they wear my clothing. But now that I've worked with her this year a few times, I'd have to say my next on the bucket list is Deborah Harry. Hands down, for more reasons that I can type.
PONYBOY:  Minus celebrities/entertainers, describe the customer that buys your ready-to-wear.
ASHTON HIROTA:  I think my target market is the man or woman who wants to make a statement without screaming it. He/she is an individual who can catch the attention of others with minimal amount of effort, someone with a strong sense of self and identity.
PONYBOY:  What designers do you look up to?
ASHTON HIROTA:  Rick Owens. Most people don't know but I worked out of his old atelier for the past 8 years in Los Angeles. I see a lot of similarities between our aesthetic and would love to follow in his foot steps. He started out LA based and is now internationally loved and appreciated.
PONYBOY:   If you could design for any big name house, who would it be?
ASHTON HIROTA:  It would definitely be for Balmain or Givenchy. The craftsmanship of  their garments are beyond fabric and thread. They are works of timeless art.
PONYBOY:  Lastly, what do you see for yourself in the future?
ASHTON HIROTA:  WORLD DOMINATION
https://ponyboymagazine.com/wp-content/uploads/2013/10/ASHTON_PORTRAIT.jpg
633
950
ponyboymag
https://ponyboymagazine.com/wp-content/uploads/2020/05/Ponyboy-Banner-2F-e1589982879302.jpg
ponyboymag
2013-12-10 21:43:50
2018-02-19 09:28:58
ASHTON HIROTA
ASHTON MICHAEL