BAILEY LEITER
HELLO BANANA!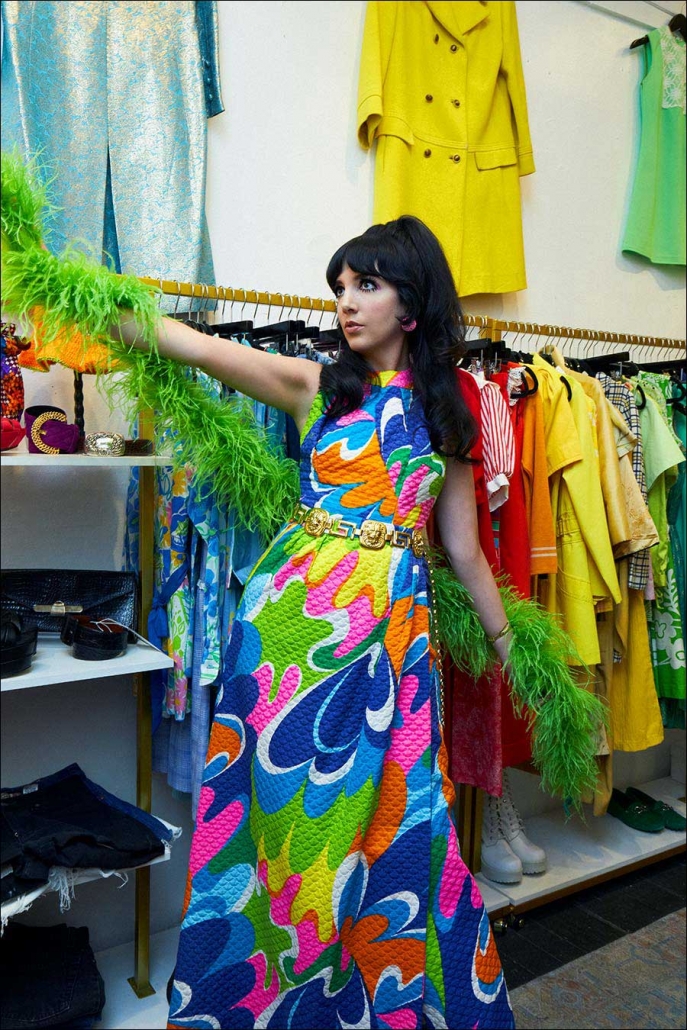 Bailey Leiter is that wide-eyed brunette beauty you may have seen or heard DJing at one of the hottest downtown New York City bars or clubs like The Mulberry bar or the Roxy Hotel. Or maybe you've seen her running her eclectic East Village boutique, Hello Banana Vintage, where she stocks the grooviest '60s and '70s frocks and accessories for the coolest girls. It's no wonder as Bailey has a fantastic eye for vintage. She's always impeccably dressed in head-to-toe '60s looks, wearing the shortest minidresses with her long thick mane of hair. Bailey really is a walking "big eyes" Margaret Keane painting – think Karen Carpenter on mushrooms. A walking billboard, she draws fans and clients in with her amazing looks while spinning the most far-out and sensational tracks!
Bailey Leiter photographed at Hello Banana Vintage in New York City. All clothing from Bailey Leiter's personal collection. Photography by Alexander Thompson. Makeup by Ashley Meyers.
PONYBOY:  Bailey, you're a thriving DJ in the New York City downtown scene. How did you actually get into DJing?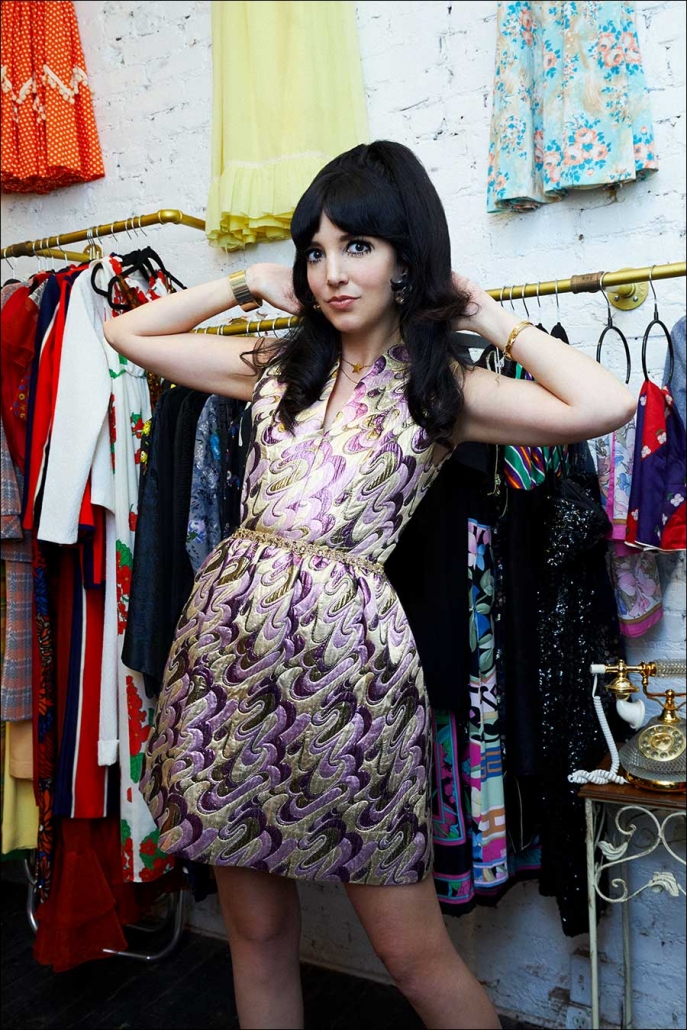 BAILEY LEITER:  I got fired from my door girl job at a nightclub because I called out sick when it was below freezing outside. A few months later I made the manager feel guilty about it, so he asked if I knew how to DJ (I didn't) and I lied and said yes. He offered me a Monday night for $75. The worst night of the week. My best friend Hayley Griffin was the bartender there on Mondays and said, "Dude, let's just blow this shit up." So we got to work, texted everyone we knew, and threw a pre-Valentine Day party called Je T'aime Oh No and acted like it was going to be THE premier event and you'd undoubtedly regret it forever if you missed it. It was an instant success so we kept doing them and eventually, we were always selling out at capacity. Always on a Monday. The rest is history.
PONYBOY:  What parties/events do you spin at now?
BAILEY LEITER:  I'm the weekly resident DJ at the Mulberry on Thursdays and the Roxy Hotel on Saturdays, and I've recently started collaborating with the MoMA and Fig & Olive. I throw a sporadic all-vinyl dance party named after my vintage clothing shop called Hello Banana the Party! It's a super fun and glamorous event. People really dress up for it… it's the one place you can wear THE THING that you have no idea where else to wear it besides maybe the opera or a black tie wedding. It's half of the fun. I've always done them at the Soho Grand Hotel but we're going to be changing this up soon to keep growing. Possibly moving to Brooklyn.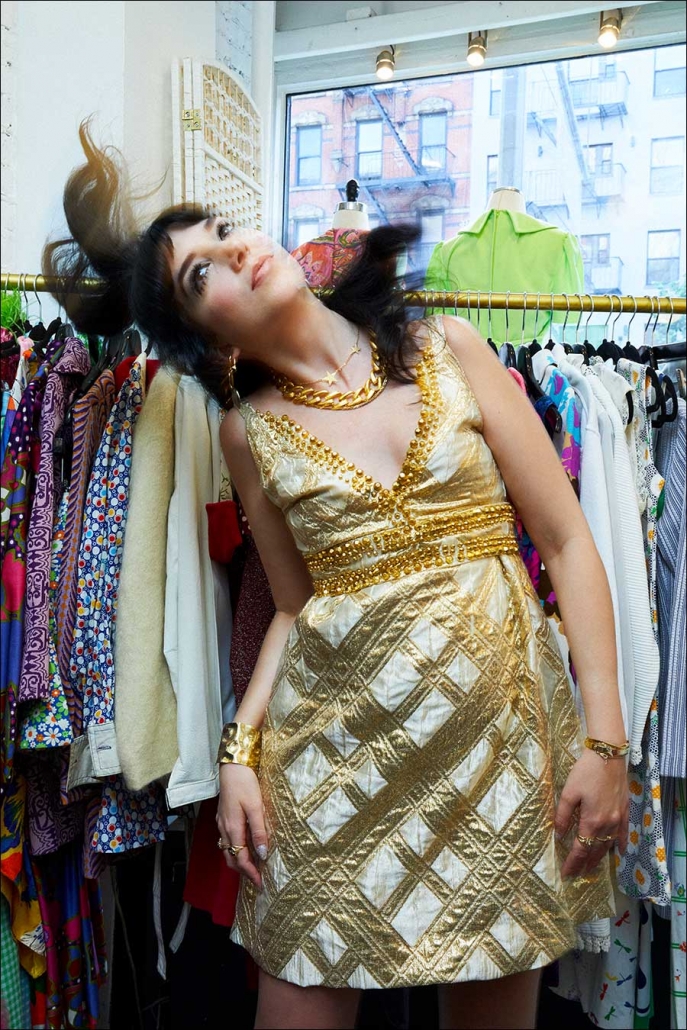 PONYBOY:  You're well-known for spinning groovy tunes in your fabulous vintage '60s frocks. What are some of the record stores where you find your vinyl?
BAILEY LEITER:  Academy Records and Rebel Rouser.
PONYBOY:  Do you have a so-called "plan of action" or a different set list for the different types of parties that you spin? Or do you just jump in and spin whatever you feel?
BAILEY LEITER:  At the Hello Banana Party, I have full creative freedom to play what I want, however I want, but I do fine-tailor my sets depending on the client, location, time of day and even time of year. Sometimes I spin mostly disco. Other times I play rare soul and funk which is what I really prefer. I try to specify what type of music I'll be playing wherever I am promoting the event.
PONYBOY:  What are some of your all-time favorite records that you enjoy spinning?
BAILEY LEITER:  I spin singles! (45s)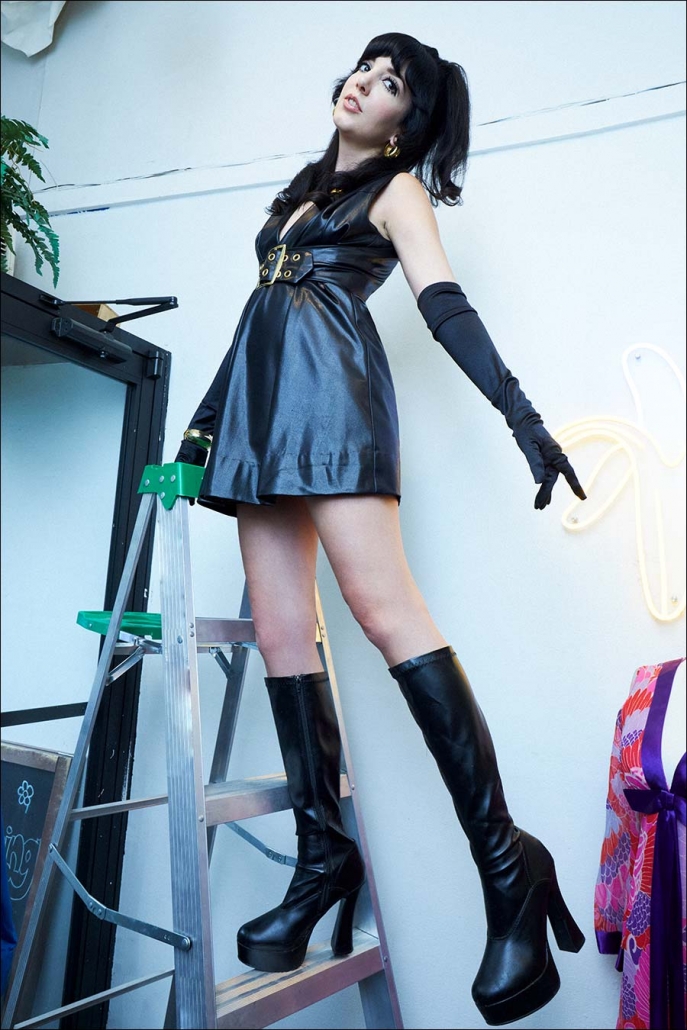 PONYBOY:  Who are some of your favorite DJs in NYC?
BAILEY LEITER:  EDAN – his record collection and impeccably smooth cutting and mixing can't be beat. His sets are always so creative and inspiring to me. I also really look up to Natasha Diggs. She's a FORCE! So talented. So hard working. You can tell she really cares about the community she's built both in NYC and around the globe. She's got great personal style both musically and visually.
PONYBOY:  When you're off the clock and just want to hang out and have a cocktail with friends, what spots do you frequent?
BAILEY LEITER:  The Mulberry, HiLot, Hotel Delmano.
PONYBOY:  What's your background? How did you end up in New York City?
BAILEY LEITER:  Same as a lot of people's. Bored in my town. Needed a change. It was closer than Los Angeles. A bad breakup could've played a part in the initial motivation. I worked at a vintage shop in St Petersburg, Florida and the owner really was the one who encouraged me to move on and see what else was out there. Bless her.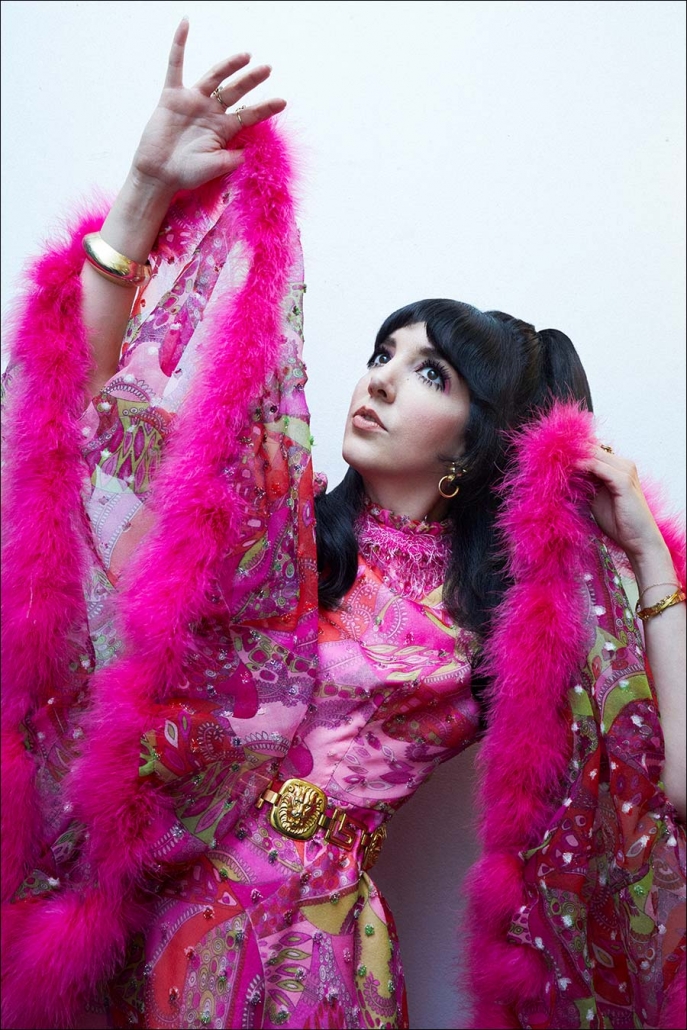 PONYBOY:  You're obviously a big '60s gal. How did you get into vintage clothing/style?
BAILEY LEITER:  My grandparents owned an antique store in the Midwest and my grandfather was an auctioneer. I've always loved old things. It's in my blood. I started thrifting at the Salvation Army and Goodwill when I was 14 years old. You could actually find good things back then – especially in Florida where I'm from. I've always been fascinated by the '60s and women's styles, especially in the late '60s early '70s. It was a very rebellious time for ladies' fashion but it was also so feminine. I'm a girly girl so I personally love femininity!
PONYBOY:  Who are some of your favorite style icons?
BAILEY LEITER:  Mariska Veres from Shocking Blue, Charo, a box of Crayola crayons.
PONYBOY:  What designers/labels are you a fan of – both present-day and vintage?
BAILEY LEITER:  I've never really cared that much about designers, to be honest. But I do love the iconic '60s designers – Courreges, Pierre Cardin, Paco Rabanne.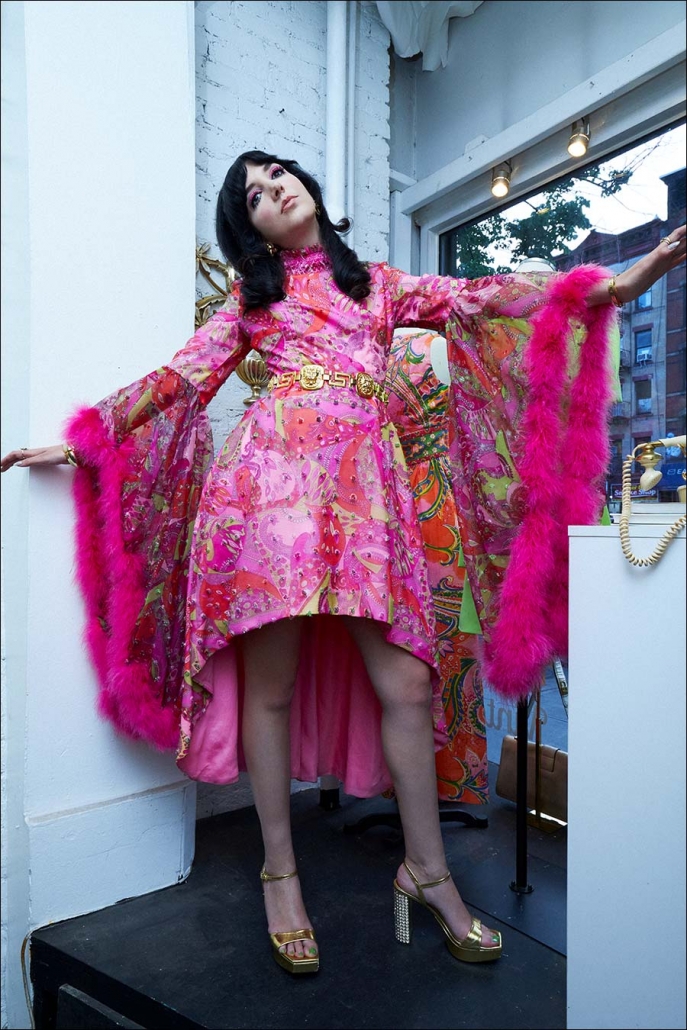 PONYBOY:  We're fans of your East Village boutique, Hello Banana Vintage. How did it come about?
BAILEY LEITER:  It's always been my dream to have a colorful little shop and be a part of the makeup of a neighborhood community. "A shop of pure dopamine!" – someone on Google Reviews.
It was never in the plan to open during a pandemic, (Hello Banana opened in 2020), but I wasn't sure if nightlife would ever return to what it previously was, so I had to pivot, take a chance and invest in myself.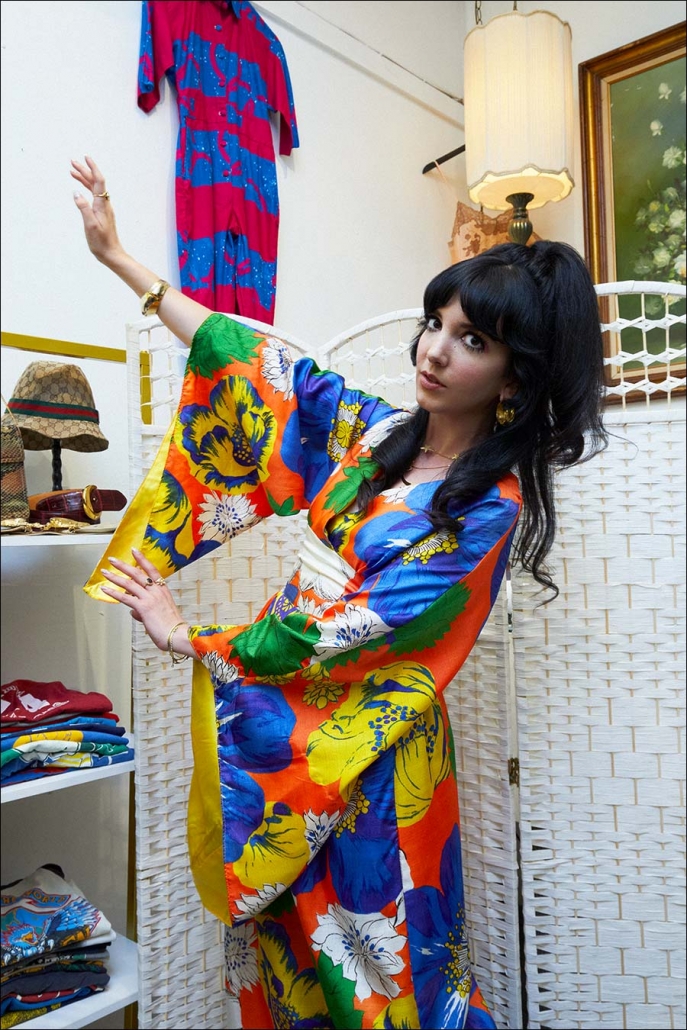 PONYBOY:  What are some of the ins and outs of running a vintage shop in New York City? Is it a struggle to find good, affordable pieces for resale?
BAILEY LEITER:  The biggest struggle is never feeling at ease. If the shop is doing well, you need to go out and find more things. I have to travel to find the majority of those things because everything is so picked over close to NYC. Even within a 6-hour drive. Finding it cheap enough to resell at a reasonable price has become increasingly challenging because there's less and less of the cool '60s and '70s stuff as we grow in time.
PONYBOY:  What's next for you and Hello Banana? Are there any new DJ plans/ parties on the horizon that you can share?
BAILEY LEITER:  Yes! It's looking like there's going to be a Hello Banana the Summer Party featuring special music guests SUPER YAMBA BAND on the roof of Turks Inn this August. Most likely August 23rd! Very excited! Stay tuned!