DANIEL WALTERS
A NEW YORK DOLL
Daniel Walters is a Creative Director, DJ and former agency model living and working in New York City. Daniel's very distinctive look includes a svelte frame, super high cheekbones and a rock 'n' roll mane. He is somewhat of a chameleon in photos, at times resembling a young Robert Mapplethorpe or Mick Jagger. He is different than the masses in that his mannerisms are elegant, soft-spoken and quite reserved. One might feel intimidated at times in his presence, perhaps enhanced by the fact that he looks as though he jumped off the pages of a 1970s L'Uomo Vogue magazine. It appears as if Daniel is always dressed impeccably, not a stylish element in his appearance is left undone. He is both kind and sweet-natured. His roots reveal that he is a proper Southern gentleman, bred with manners. Daniel spends his hectic New York City days working at the legendary Morrison Hotel Gallery in SoHo. And his just-as-busy nights are filled with DJing at the hippest downtown clubs and lounges with his just-as-glamorous and beautiful other half, Jack James Busa. Daniel Walters is a New York Doll.
Photography Alexander Thompson. Makeup & hair Ashley Jayne Meyers.
https://www.morrisonhotelgallery.com/default.aspx
PONYBOY:  Daniel, you're a southern boy. Tell us your background?
DANIEL WALTERS:  Yes, I am originally from a small, sleepy town at the very southern tip of Alabama, called Fairhope. Southern belles, hillbillies and all of that. It has a fair share of challenges and charms.
PONYBOY:   What was your upbringing like as a child?
DANIEL WALTERS:   As a kid, a lot of days were spent at the beach and in community theatre. But as customary of most inquisitive, sui generis teens in a quiet town, I got restless and, at times, unruly. My first brushes with "city living" were two-hour sojourns to New Orleans with friends and fake IDs (sorry, mom!).
PONYBOY:   Did you come to New York City as a model? Were you scouted?
DANIEL WALTERS:   More or less. A local agent in Mobile, Alabama introduced me to a Wilhelmina scout who suggested I move to New York or Los Angeles first if I ever wanted to pursue modeling seriously. Not sure if that was necessarily the most sage advice? But eager to get out and with a look more aligned with NYC vamp than the LA camp that seemed to pervade the industry (at least at that time, being 2015), I landed in New York without an agency, job lead or knowing a single person.
PONYBOY:   Tell us about your modeling days? Some of your favorite photographers and shoots, runways that you may have walked.
DANIEL WALTERS:   For the first three or so years, I took modeling very seriously. Looking back, probably too seriously. But during that time I was fortunate enough to experience the good, the bad and the ugly. A penultimate moment I cherish would have to be Palomo Spain's first-ever campaign and subsequent runway shows. By now, the brand is widely beloved. But at the time, I was so inspired and compelled by designer Alejandro Gómez Palomo, to be part of his groundbreaking vision in its infancy. However, the biggest takeaway would have to be the several months I spent in Milan. It's not that it was, in and of itself, particularly gratifying but rather a turning point for me. Between castings, shoots and shows, I spent virtually all of my free time alone exploring museums and historic sites that were altogether foreign to me.  This led to a lot of introspection. Being surrounded by so much beauty, I didn't feel I had the vernacular to fully articulate and appreciate. So I decided then that I would lean into this feeling and focus on art history. Upon my return to the states, I immediately applied to The New School and graduated in 2019. One of the best decisions I've made to date.
PONYBOY:  Overall, what was your modeling experience like? Did you enjoy it? And were there any negatives that you encountered if any?
DANIEL WALTERS:   Naturally, I can only speak to my own personal experiences so I'd be remiss to describe it as anything other than a mixed bag. In many ways, it served me well, especially at that particular point in my life, introducing me to some truly wonderful experiences and people. It challenged me and opened a lot of doors. However, there are also plenty of individuals within the industry who prey on the young and impressional naivety of those, particularly models, looking for therein. While I consider myself lucky to have found ways to circumnavigate the seedy advances of certain photographers, bookers, etc., I witnessed a lot of my peers diminish or self-destruct in the process. Fortunately, we're seeing a major moment of deliverance for some of these individuals. But at the core, I don't think enough pressure is being put on agencies for their notorious and blatant disregard for the roles they play in such practices.
PONYBOY:   Are you still modeling these days?
DANIEL WALTERS:   Not really. My creative focus is really elsewhere these days, between gallery work and DJ'ing. But ironically enough, the shift has also led to a greater number of modeling opportunities that I've accepted and found myself excited by as they've come with a certain degree of the creative involvement I've always craved.
PONYBOY:   Switching gears, you're now the creative director for the Morrison Gallery Hotel in SoHo, where we did our super fab Ponyboy photoshoot. For anybody who is not in the know about the gallery, could you kindly tell our readers the origin/background of the establishment?
DANIEL WALTERS:   Yes, I am so pleased to share this special place with you and others. When the gallery first opened in 2001, its intent was to showcase the extensive oeuvre of our founding photographer, Henry Diltz. In many ways, its given agency to a previously untapped market and artists therein. Expanding to 125+ photographers' archives and three gallery locations, Morrison Hotel Gallery is the global leader in music photography.
PONYBOY:  How did you come about working at the gallery?
DANIEL WALTERS:   As a broke and bored NYC newcomer, I took up an internship as an editorial assistant at a now-defunct nightlife concierge company. I jumped from intern to editor-in-chief which was kind of jarring, provided that no one knew I wasn't actually old enough to even be in the nightclubs and cocktail bars I was reviewing. In the process, I was introduced to Morrison Hotel Gallery when I wrote a review for a Lynn Goldsmith solo exhibition. Fast-forward to 2018 when I was at The New School, I knew I needed relevant internship experience and what better place to apply than a gallery with which I already had a tangible and favorable rapport? It was just meant to be a summer internship but I quickly found myself engrossed in the depth and breadth of music history, particularly through the oft-underwritten lens of a fine art historical dialogue.
PONYBOY:   In your position as creative director of the gallery, what would say are your key responsibilities?
DANIEL WALTERS:   Prior to the pandemic, I was largely devoted to co-curating shows for our SoHo flagship and the cultivation of an online presence through social media content and web exhibitions. However, like many, 2020 proved a major turning point for me. With the galleries closed, they really looked to me to greenlight a myriad of online campaigns and remote branding activations to which some of the partners may have previously not given much considerable merit. I am probably most proud of (De)Tour, an online music festival I co-produced with Timothy White, Casey Kaplan, Dawn Kamerling and Rolling Live to benefit MusiCares and NIVA. It was great. We had David Johansen, Ringo Starr, Macy Gray, Slash, Taylor Momsen, Darryl McDaniels, Uni and others playing from all over the country. Some live-streamed from legendary (yet eerily vacant venues) like The Viper Room, Whisky-A-Go-Go, Bowery Electric, etc. In truth, I was totally out of my depths on that one but am really proud of myself and my team for pulling off such a massive feat. I'll refrain from using the phrase, "unprecedented times."
PONYBOY:   The gallery is quite impressive, with so many legendary rock 'n' roll photographers from over the decades. Who are some of the photographers that you have dealt with?
DANIEL WALTERS:    First and foremost, I have to say Mick Rock. I've probably had the closest working relationship with him, out of all of our photographers. For the first couple years of knowing him, he referred to me almost exclusively as Alien Prince, a moniker that, from him, could only be considered a compliment of the highest order. Of course, his photos are iconic. But it's truly the person that he was – by both happenstance and his own meticulous, interpersonal work that I believe will remain most evergreen. I think a lot of that also has to do with the people he chose to surround himself with; namely, his manager, Liz Vap, who has also taken me under her wing in my DJ pursuits. In fact, as I told Liz when Mick passed away, the magnitude of tributes to him (literal millions) was the mirror image of their joint efforts. My hope is that she, and all those that adored Mick, recognize this.
A few other photographers I've loved working closely with are Timothy White, Stephanie Pfriender-Stylander, Jesse Frohman, Catherine McGann, Bob Gruen, Gered Mankowitz and Baron Wolman. Outside of the gallery? Honorable mention to Ryan McGinley, Georgia Mitropoulos, Sinem Yazici, Nicole Galinson, Kristin Gallegos and, of course, Alexander Thompson; maybe you've heard of him?
PONYBOY:   Overall, what would you say is your all-time favorite piece there? What would you chose if you were allowed to have any one photo from the archives?
DANIEL WALTERS:   So many to choose from but the one I've coveted the longest would have to be the late-great Baron Wolman's Groupies (1969). I was recently able to track down a vintage, hand-signed artist-proof print that is a crown jewel of my personal collection.
PONYBOY:  Tell us about the Los Angeles location.
DANIEL WALTERS:    I always jump at the chance to visit our Los Angeles location. It's located in the lobby of the Sunset Marquis. The Gallery Director, Jamie Bucherer, is a total babe and absolute genius. We've had some really great times there. I'll never forget the Morrison Hotel 50th Anniversary celebration we were able to put on in February 2020. It was our last in-person event before everything shut down and certainly one for the books. The Doors' Robby Krieger was joined on stage by a genre and generational transcendent slew of headliners like Miley Cyrus, The Struts, Gary Clark Jr. and Michael Bolton among others.
PONYBOY:  Do you have any upcoming photo exhibitions that you can tell our readers about? What have been some of your favorite past personal exhibitions under your direction?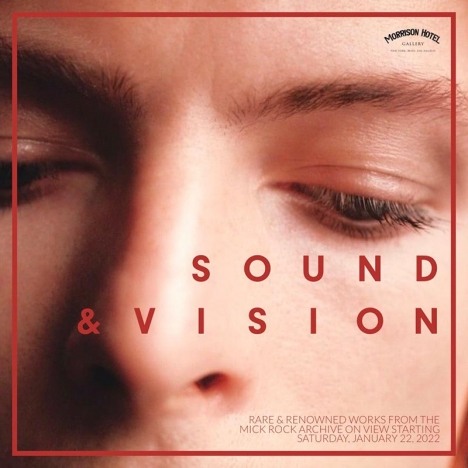 DANIEL WALTERS:    On Saturday (January 22), we unveiled Sound & Vision, a Bowie retrospective honoring his 75th birth year through the singular lens of Mick Rock. Needless to say, this one was sentimental, honing in on the life force and longtime collaborative relationship of these two visionaries. Night Fever is another of note. That was the first exhibition I curated singlehandedly and it still upholds as one of my favorites.
PONYBOY:  You and your boyfriend, actor/singer Jack James, have recently started DJ'ing under the name "The Muses". How did you both get into being DJs? And tell us about your weekly residence at The Butterfly in Soho.
DANIEL WALTERS:    Yes, it's a relatively new venture and one I'm really excited about. While it's an idea we've toyed around with over the past couple of years, it wasn't until Mick Rock asked us to DJ an event for him last July in Westport, Connecticut that it became real. Despite having virtually zero direct experience, he had all the faith in the world that we could pull it off. The Muses will always, at least in part, be a tribute to him. We also owe a great deal to a very dear friend and fellow DJ Samantha Michelle who has shown us the ropes and offered us a great deal of support every step of the way. Over the past five months, we're blessed with the traction we've gained. That also has a lot to do with Butterly GM Nur Khan who gave us our first weekly residency pretty early on which has since evolved (metamorphosed?) into Hump Wednesdays co-hosted by Abel Daniel.
PONYBOY:  What other events have the Muses DJ'ed at?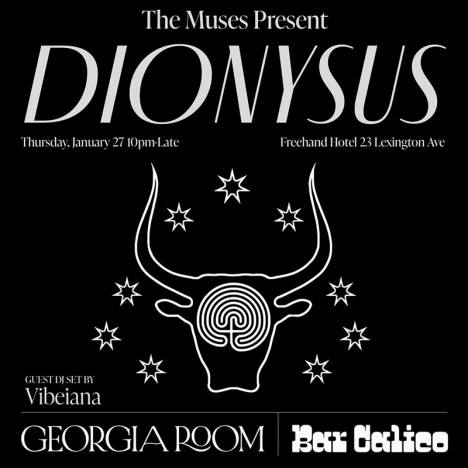 DANIEL WALTERS:    Todd Haynes' The Velvet Underground at Lincoln Center. We also recently introduced DIONYSUS, a bi-weekly party (every other Thursday) that we're currently producing for Georgia Room x Bar Calico at the Freehand Hotel. We bring a myriad of New York talent to the forefront with a rotating pantheon of guest DJs, burlesque performers, drag artists, musicians and more. Other favorite spots The Muses frequent are Joyface, Chapel Bar and Paul's Baby Grand.
PONYBOY:  Are there any new rock bands that you favor? That both you and Jack enjoy spinning at your parties? And who are some of your all-time classic rock bands/performers that have inspired you over the years?
DANIEL WALTERS:    I'll admit that there aren't a ton of contemporaries in my current rotation, although I'm always open to new discoveries. There are, of course, a handful of exceptions; Vlad Holiday, Uni (naturally), Paige Calico, Lucius, Dimitri from Paris, The Limiñanas, FKA Twigs, Orville Peck and Nick Nicely. There's also this really great new band out of Atlanta I worked with for De:Tour called Hero that we should all have on our radar. As far as personal classics go, it's a little all over the map. But at a glance, I'm a sucker for Shocking Blue, Bowie, Aphrodite's Child, Serge Gainsbourg, Nancy Sinatra, Cher, Sly & The Family Stone, Todd Rundgren, Diana Ross, T.Rex, The Carpenters, Fleetwood Mac, Grace Jones, Sparks, Gandalf, Elton John and Jefferson Airplane.
Outside of that, I'd say that The Muses' sound is best defined as "Parisian funk". So always a lot of Gainsbourg, Raffaella Carà, Brunetta, Jacqueline Taieb, Stone, Vanessa Paradis, Jacques DuTronc, Amanda Lear, Pino D'Angio and some dance/house thrown in for good measure.
PONYBOY:  It's such an easy sell, the two of you as DJs for fashion/music events. Are you looking to delve more into this?
DANIEL WALTERS:    Absolutely. Now that we're at a point where we're able to independently produce events geared toward fostering local talent, personalities and creative communities, I see moving into global fashion/music events as a viable forthcoming step in our expansion.
PONYBOY:  Your rock 'n' roll style/aesthetic is fantastic. Do you primarily dress in vintage? What shops do you get your pieces from?
DANIEL WALTERS:    Thank you! Most of what I wear is vintage. Lots of Etsy/eBay digging but I'm a big fan of Hello Banana in the East Village, owned and operated by friend and fellow DJ Bailey Leiter. I've fondly dubbed the shop Bailey's Dollhouse. Visit her at 156 1st Ave in the East Village and see why.
PONYBOY:  Who do you look up to, as far as your own personal style inspiration?
DANIEL WALTERS:    Most simply, I'd like to think my personal style inspiration is best understood through an unholy trinity comprised of a young Yves Saint Laurent, Carolyn Bessette-Kennedy and Botticelli paintings. And with a dash of Mapplethorpe for good measure. A little old school, a little new school, a little charm school. On my good days, naturally.
PONYBOY:  What designers are you a fan of?
DANIEL WALTERS:    I was recently introduced to a new designer, Beau Watson, who is doing some really exquisite, unrivaled work. I'm also a big fan of independent labels like I'm With The Band, Cowboy Boots U.S.A, Stoned Immaculate and Society of Vintage. Honorable mentions go to Dion Lee and, inevitably, Gucci.
PONYBOY:  Do you see yourself staying in New York City indefinitely?
DANIEL WALTERS:    Good question. I'm not sure if I'll stay in New York forever but the real question is, where does one go from New York? Perhaps London or Paris eventually. I consider myself a Parisian at heart.