MOAN ELISA
THE NIGHT SHIFT
Moan Elisa is the owner of The Night Train, an eclectic vintage boutique that's curated for the coolest rock and roll kids. It's a little gem of a shop, tucked away in the back of The Cast, the legendary punk emporium on Orchard Street in New York City's Lower East Side. You might see quick glimpses of this striking dark-haired beauty jetting around town in her super-fab '90s white caddy, wearing fantastic vintage pieces from her own personal collection. We're in awe of her stylish dark glamour which gives off hints of  Siouxsie Sioux meets Venus in Furs.
She's also the co-founder of one of our favorite New York City bands, The Trash Bags, with singer Chuck Bones (who we featured on Pony some years back). Moan Elisa's icy stage demeanor serves subtle, standoffish hints of a "fuck off" attitude while she plays her guitar.  We just love that she barely acknowledges the kids who mosh in front of her pointy black boots. And why would she?
Big thank you to Chuck Bones & The Cast.
Hair lizzyweinberg
Photography Alexander Thompson.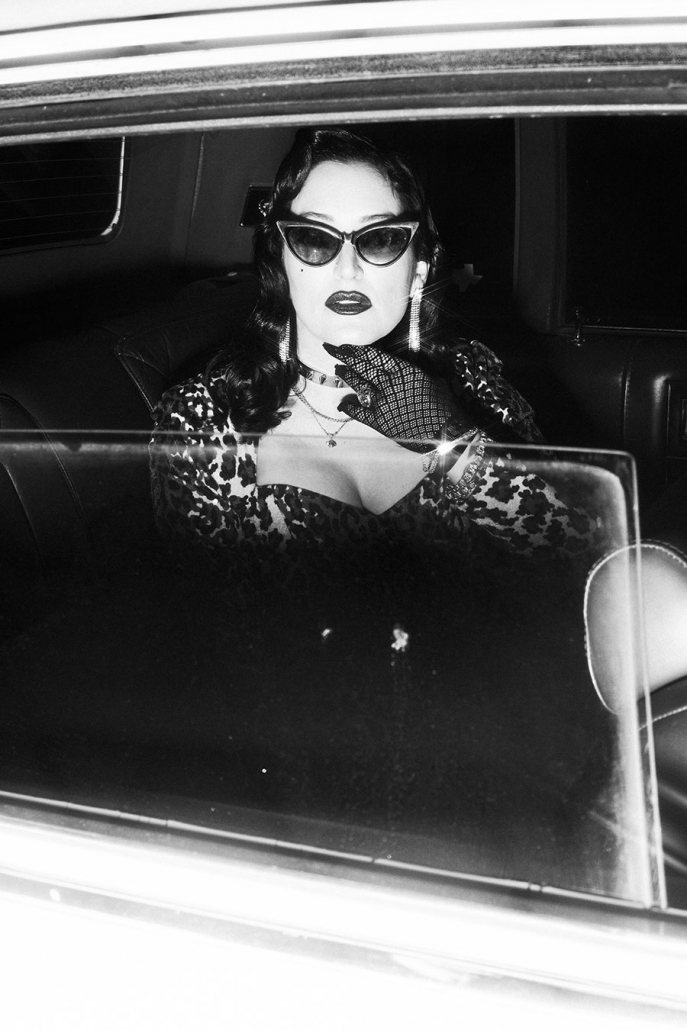 PONYBOY:  We love the aesthetic of your Night Shift boutique. How and when did the shop come about?
MOAN ELISA:  I started thrifting when I was in junior high school. I was inspired by the "grunge" era and it just went from there. I was selling vintage online as soon as it was possible, those early days of online shopping.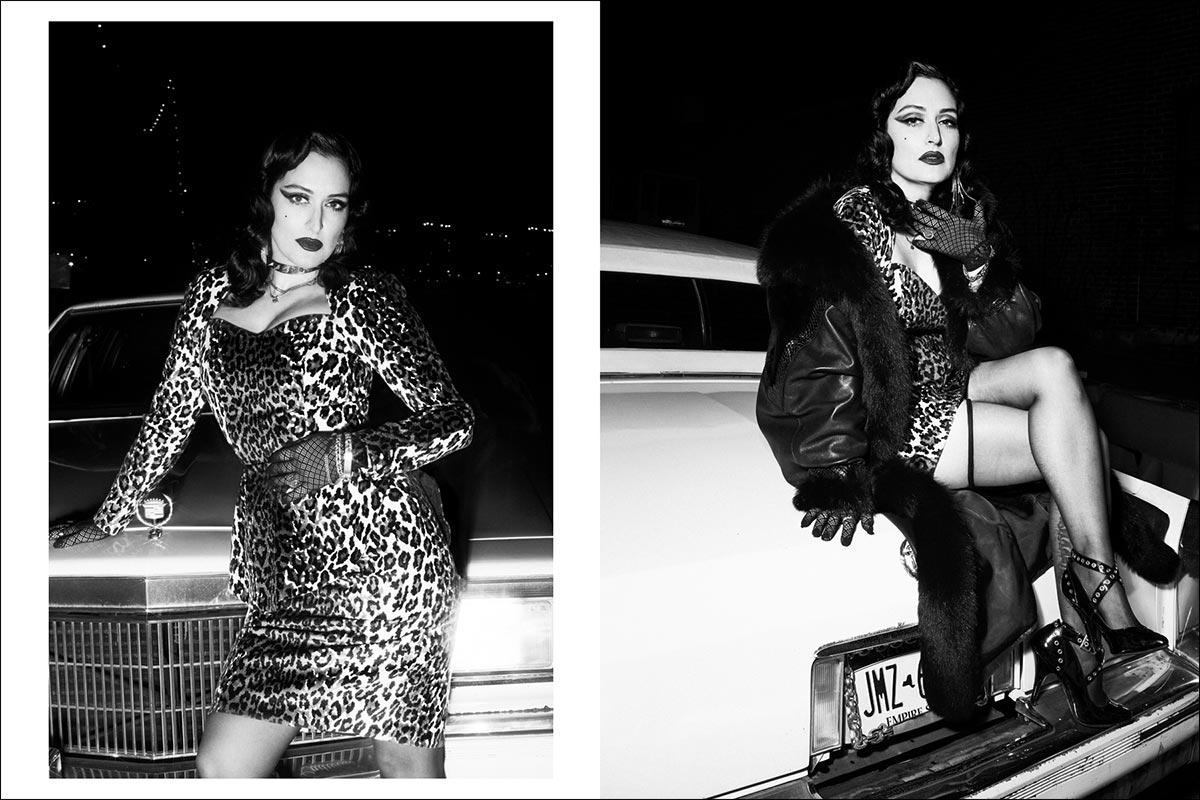 PONYBOY:  Have you always had an interest in vintage clothing?
MOAN ELISA:  I've always had a curated selection of vintage in the shop and I've always wanted to expand it as it's such a passion of mine. I loooove to dig!!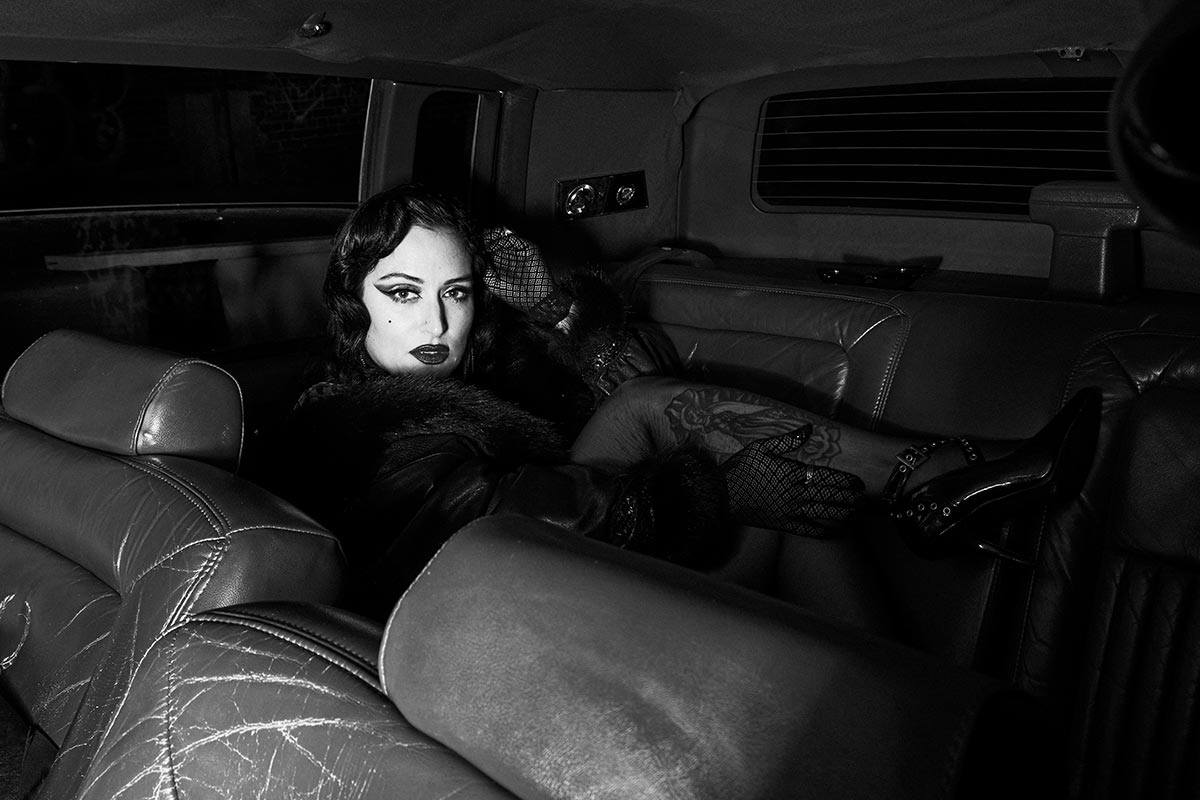 PONYBOY:  Finding affordable vintage has become harder and harder over the years, especially to resell. It seems like everyone has jumped on the vintage bandwagon. What are your overall feelings about the vintage market these days?
MOAN ELISA:  The vintage buying/selling has become quite saturated, it's become everyone's side hustle so to speak. Finding real quality vintage pieces in the wild is so rare, as you know! It's become all fast fashion out there. But I am happy to see the collective awareness of the benefits of buying secondhand.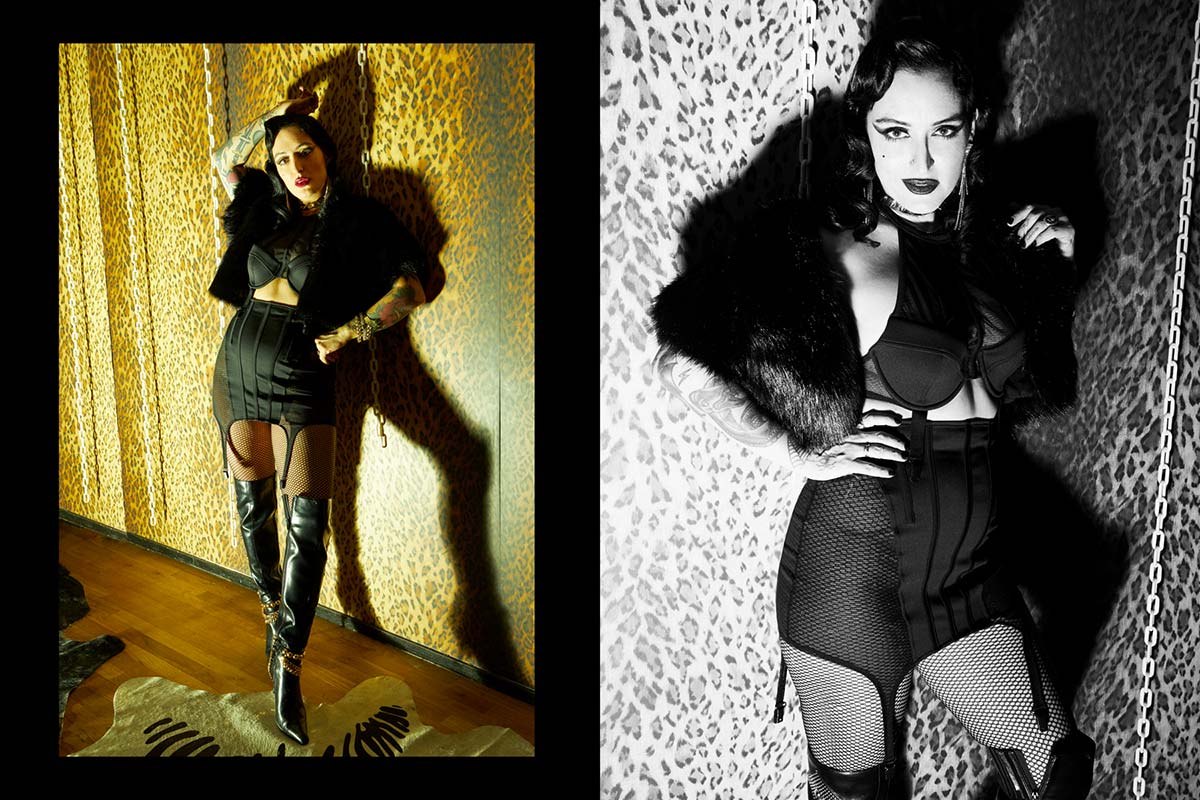 PONYBOY:  Describe your average Night Shift customer. Do you also do rentals for TV/movies/photoshoots?
MOAN ELISA:  My goal with Night Shift was to stock things I'd wear and make it affordable. I definitely have a love of the 70s/ 80s era. It's always about a high/low mix. I think the people coming through appreciate the fair pricing. They're people who have personal style and know how to put a look together. Things come and go quickly and I'm putting things out daily. I also work with film/TV productions and stylists.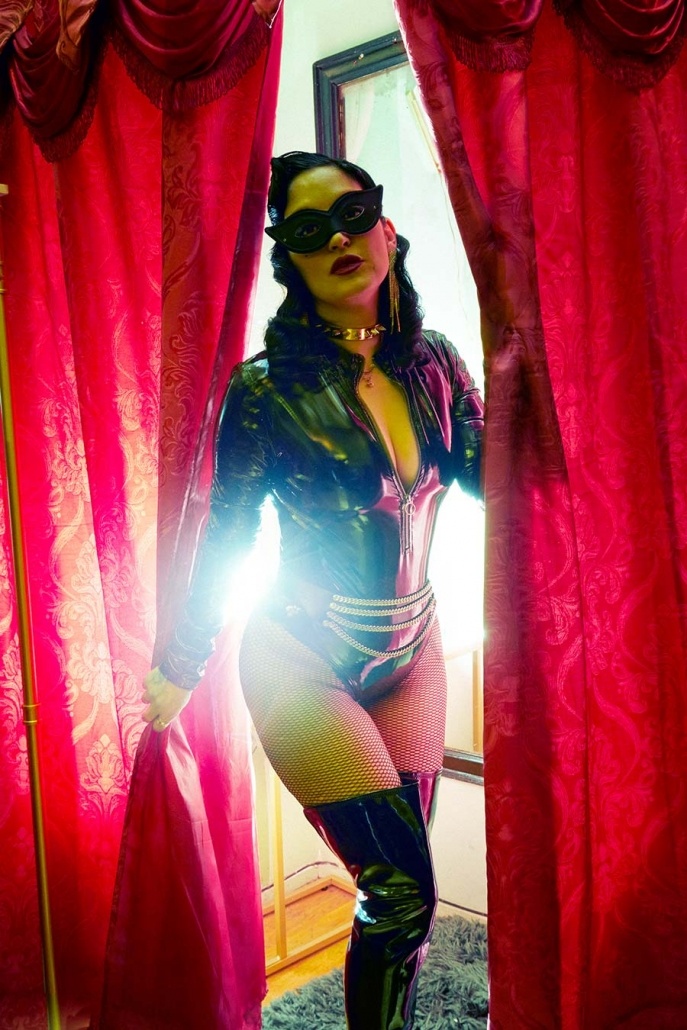 PONYBOY:  What are the daily struggles with having a brick-and-mortar shop these days?
MOAN ELISA:  I've had a physical store in New York since 2009 on the Lower East Side with The Cast. The neighborhood has completely changed in that time. We were a little rock and roll shop nestled between old-school hosiery places. The foot traffic wasn't what it is today. The location has moved a few times, always growing. Trying to maintain the physical location as well as maintaining an online presence is one of my biggest challenges.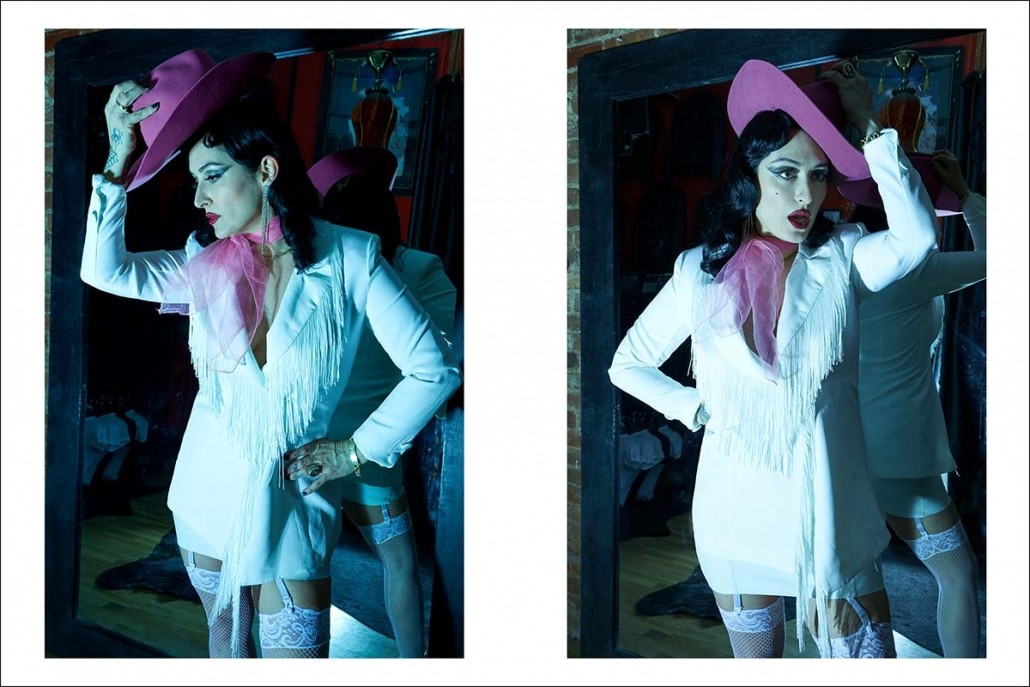 PONYBOY:  You originally grew up in California. How did you end up living in New York City?
MOAN ELISA:  I'm from the LA area originally. I've been in New York for 15 years. Growing up in California, you don't have seasonal changes. My first winter in New York was a sharp learning curve. I was working as a stylist there before moving and opening a store in New York. I still work on films/TV/ style shoots. Having worked both, New York is harder logistically for everything but I do feel like this is where I'm supposed to be. California is nice to visit and then I come home to New York.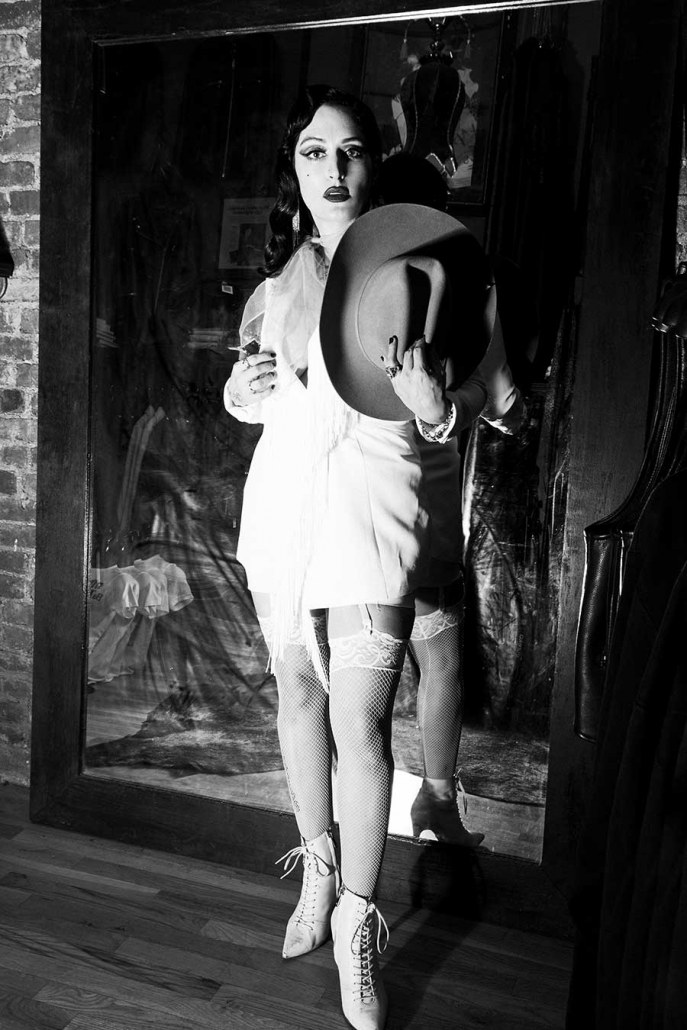 PONYBOY:  We're just crazy for the Trash Bags, the band that you and Chuck Bones formed together. How did you guys come up with the band? Have you always played guitar in bands?
MOAN ELISA:  Having a band was something I'd been wanting to do again. I was playing when I was a teenager and put it down for so long. Chuck and I just started messing around and it slowly came together. We're in the process of writing some new stuff to record, and getting some shows together for 2023.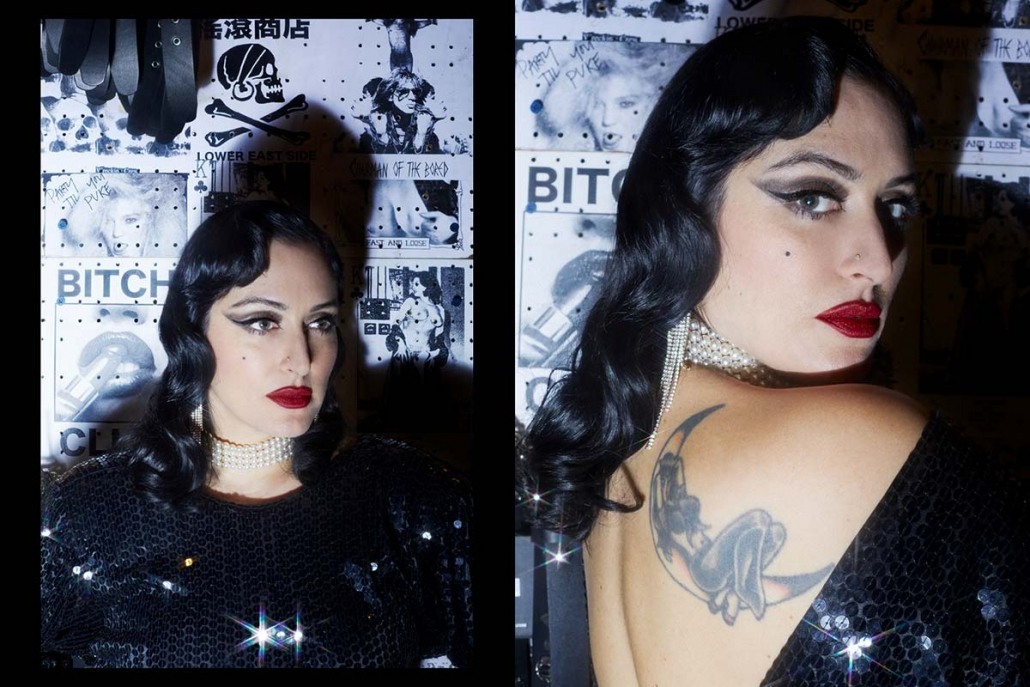 PONYBOY:  Your look and personal style are fantastic. Who would you say are your style "idols"? People that have inspired your fashion evolution/look over the years.
MOAN ELISA:  I am obsessed with strong female characters in fashion/art/music. Some of my favorites are Pam Hogg, Siouxsie, Vivienne Westwood, Auriel Burgelin, Nan Goldin, Exene, Madonna, Michele Lamy and Vali Meyers (I was lucky enough to spend NYE this year in her former apt in the Chelsea Hotel. You can still feel her presence there).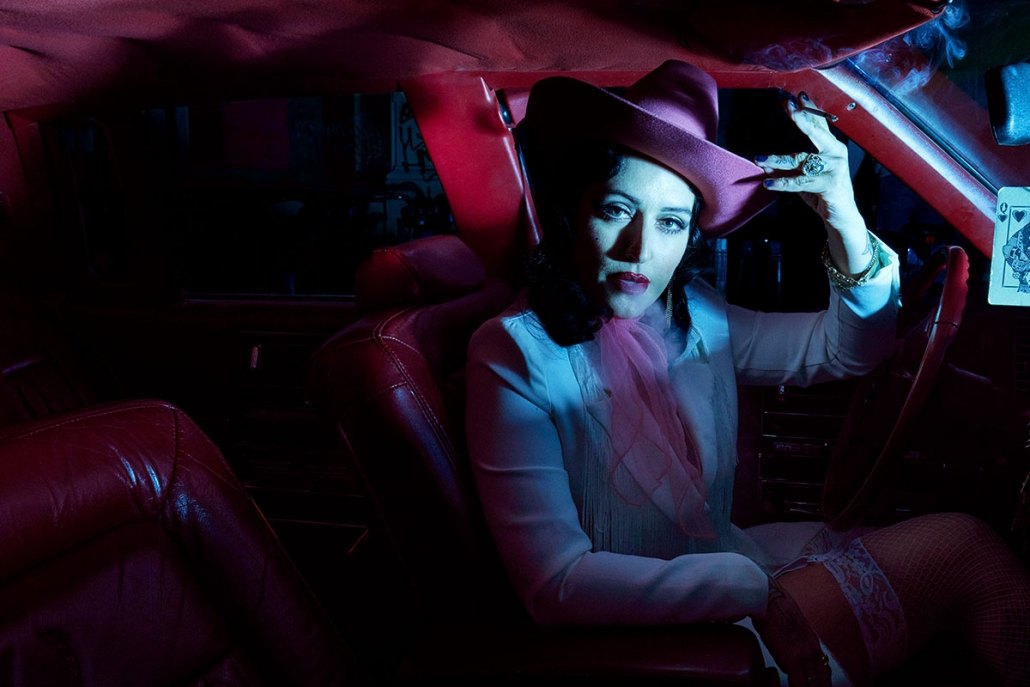 PONYBOY:  As far as local NYC bands, who's on your radar?
MOAN ELISA:  In New York, I love CHRISTEENE – it's punk as fuck. Lyla, the Trash Bags drummer also drums in that band as well. And our other bandmate Julia is in another band, Tits Dick Ass which is badass. I also like Daddy Long Legs and Brower.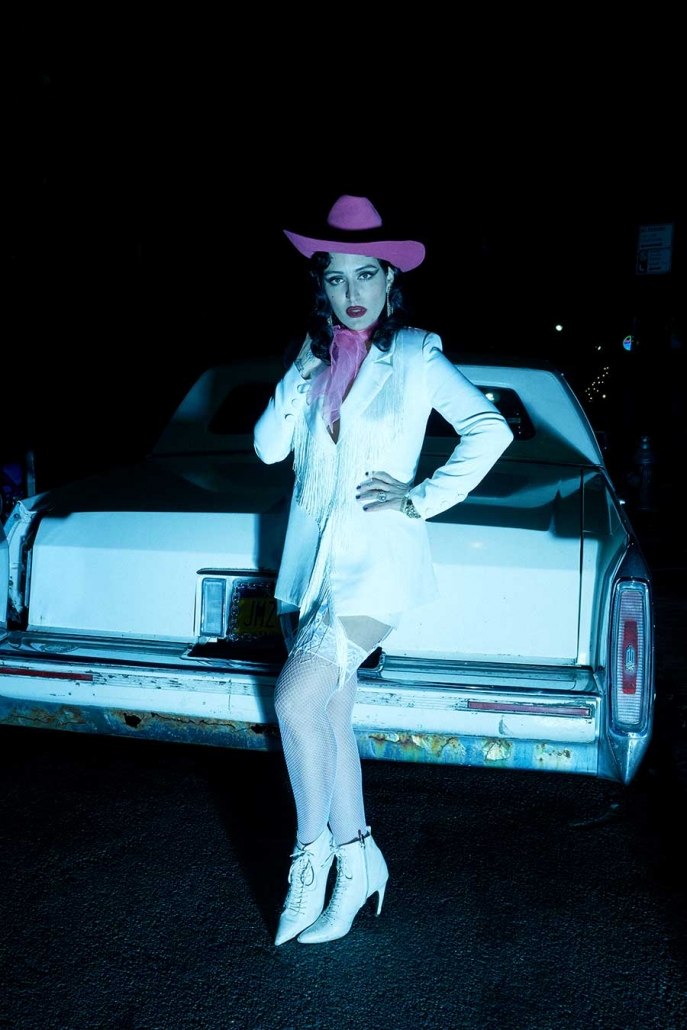 PONYBOY:  We love your vintage white Cadillac (heavily featured in our Ponyboy shoot!). What's the story behind it? Do you have it have a name?
MOAN ELISA:  She's a 1990 Cadillac Brougham. I bought it right before the lockdown. Thank fuck! I was able to drive everywhere and keep some sanity. I love that car, she's referred to as the "Badi" haha.