WYLDLIFE
YEAR OF THE SNAKE
WYLDLIFE are a band of New York City musicians who explode with dynamic energy, performing on stage at our favorite music venues in the underground music scenes of Manhattan and Brooklyn, as well as all over the US. Their shows are a sight to behold! The band is fronted by the heavily tattooed singer Dave Feldman, who has a wise-ass, wicked sense of humor. This guy owns a vintage Playboy puzzle collection that makes us green with envy. Sam Allen is a talented guitarist with a somewhat withdrawn demeanor, which is soon cast aside as he picks up his guitar. Bassist Spencer Alexander is also very gifted as an artist/illustrator and does all the fantastic graphic artwork for the band. And drummer Stevie Dios is the most recent addition to the band's lineup. While he appears shy and quiet, this kid sure knows how to beat those skins! They've released their 4th album on Wicked Cool Records today, titled Year of the Snake. Be sure to buy it and support our musicians!
This is how the band describes themselves on their bandcamp page:  Four dudes raised by alcoholic wolves. Fast rhythms and sweet melodies. Loud mouths. Leather jackets. Last spotted without t-shirts.
Photography Alexander Thompson. Additional photos courtesy of Vera Velma and Michael Goodwin.
https://www.instagram.com/them_wyldlife_boys/?hl=en
https://wyldlife.bandcamp.com/album/year-of-the-snake-4
https://wickedcoolrecords.bandcamp.com/
http://www.therealspenceralexander.com/
PONYBOY:  We've heard a few of the new songs from your latest release, Year of the Snake, on Bandcamp. Very strong stuff. Our favorite so far is "Sacre Bleu"! We can't wait to hear the rest of the record when it's released. Tell us how and when WYLDLIFE formed?
WYLDLIFE:  Sam and I went to elementary school together and started playing in various bands together since the 6th grade. So the first seeds of the band were planted back then. When we split to college, we wanted to keep it going, so we got some new guys to join over at Purchase College, where Sam was going to school for music production and engineering. Then some other guys replaced those guys and you have what you see before you.
PONYBOY:   Tell us who are the past and present members.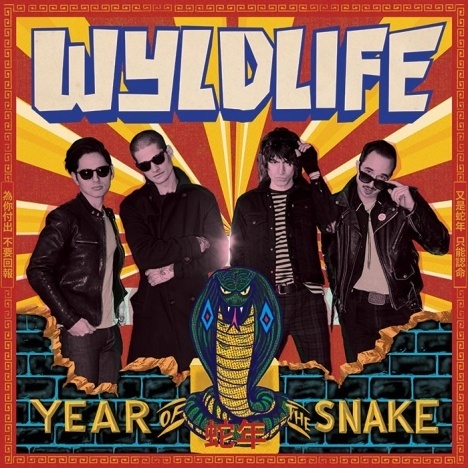 WYLDLIFE:   Oh boy. In the past we've had a lot of heads come in and out… David Kinney, Beer Slammin' Hamlin, T Stone, Rusty Russ, G Scott, Slick Rick, Joey the Lion, Skinny Pete, Pop Tart, Jack MeHoff, Cordo-Roy, BooBarry, Reggie LeDeux, Griz, Griz' brother C Note… but the only lineup you gotta concern yourself with now are Sam Allen (guitar), Spencer Alexander (bass), Stevie Dios (drums) and myself up front.
PONYBOY:   You're on Wicked Cool Records, the Steve Van Zandt founded garage rock label. And like so many, we just love Little Steven's Underground Garage radio show. What's it like being on that label? They seem to have a great roster of bands.
WYLDLIFE:   Wicked Cool has been good to us so far. They pretty much let us do our own thing as far as the songwriting goes and the production of the records. And we definitely can't get bummed out on the radio airplay.
PONYBOY:   Okay, we have to ask, as HUGE Sopranos/Silvio Dante fans, what is Little Steven like in real life?
WYLDLIFE:   He is that character. There's zero separation from Silvio Dante and Little Steven. The mannerisms and speech patterns. Yeah, he wasn't really acting on the show. But he's cool! He really does love rock 'n' roll music. That's his drive. Our interactions have always been brief, but every time he's in the room with us we're like, "Dude…it's fucking Silvio!".
PONYBOY:   Thank you for that bit of Silvio fan knowledge! How many records has the band put out?
WYLDLIFE:   This will be the fourth LP, plus a small handful of singles.
PONYBOY:   How would you say that the band's sound has changed or evolved since you put out your first release?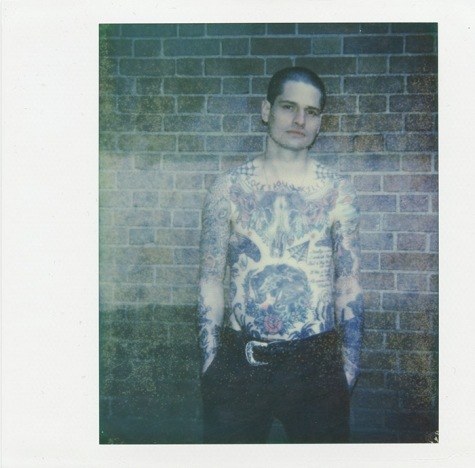 WYLDLIFE:   The first album we put out was heavily Replacements inspired, but also lent itself to a lot of 70s power-pop, as well as some of the new stuff we were hearing at the time, a lot of Atlanta-based bands. The second LP, The Time Has Come to Rock & Roll was where I think you could argue we really found our sound. A blend of late 70s punk with maybe the appeal of a large stadium band like Cheap Trick or something. We kinda chased that sound and vision for Out on Your Block and while I like that album, I'll be the first to tell you it's not my favorite. And now, with Year of the Snake I feel like we have something that's very honest to who we are. We aren't looking for approval from peers, because sadly, most of those bands don't even exist anymore back when we started. This one has a lot of different sounding songs, because we don't listen to just one type of rock and roll song. How boring would that be?
PONYBOY:   Agreed. What was your recording process like for Year of the Snake?
WYLDLIFE:   Ohh…just going in and out of the studio for a week at a time over the span of several months. Eating some really good sandwiches. Recording is boring! It's 90% sitting around until it's time to do your job, and then, if you're me, you're riddled with anxiety, hoping you're gonna get this right and not waste everyone's time. The end result is worth it though, because you have a quality product and, again, some really good sandwiches.
PONYBOY:   What's the meaning behind naming the record Year of the Snake?
WYLDLIFE:    2020 is the Year of the Rat, but 1989 is the year in which myself, Sam, and Spencer were born. Snakes have a negative connotation to them, but personally, I think it suits us well: constantly crawling and struggling to move ahead.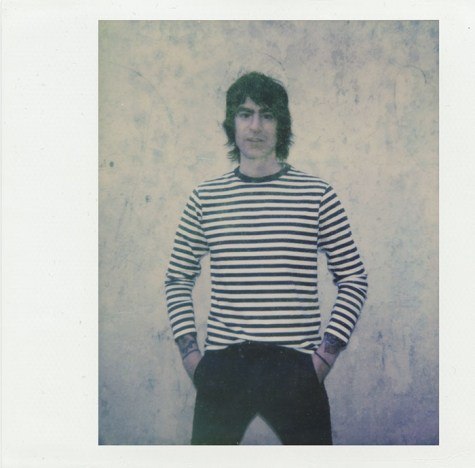 PONYBOY:   The opening song is titled, "Deathbed", which seems dark. What inspired that song?
WYLDLIFE:    "Deathbed" was written back in 2016 when all of the world's rock stars started to die. I've always been fascinated with death, and as vain as it seems, I think everyone secretly wants to know how they're gonna be perceived after they're dead. So it's about that, and we give some little nods to Joey Ramone, and Bowie, and Warren Zevon, all of who continued to work even when they knew their deaths were looming. It's intentionally contradictory to have this super poppy melody with the cynical and sad lyrics.
PONYBOY:   Interesting. Another favorite song of ours from the new album is "The Falcon". It's on the heavier side, with a different feeling/sound than the rest of the record. How did this come about?
WYLDLIFE:    That's the first song we ever made about a car. We were down in Atlanta, and I was out of my mind and saw this immaculate 1962 Ford Falcon in the parking lot of our hotel. I just kept wondering, "Who's car is that?", like I was paranoid and jealous at the same time. There's a handful of drug references because, well, I was on a handful of drugs. Atlanta can do that to you. It's a track about being out of your mind. I went upstairs and wrote the lyrics in 5 minutes. Later when Spencer, Stevie and Sam came upstairs, we finished the melody in another 5 minutes. It's one of those rare times when it all just falls into place. We were supposed to track the album just a few weeks later and we had thought we were finished, but we knew this one HAD to be on the record. We didn't know it was gonna close out the album!
Another one of those "everything in its right place moments"… we were finishing the song up around Christmas of 2019 and the studio we were working in just happened to have a set of tubular bells for a track Little Steven was working on for the holidays. So we got to use them for the song and they MAKE the track. It's one of my favorite sounds on the whole record! And then Spencer says to me, "You know, it's funny. Atlanta is home of The Falcons." And at that point it all sort of came full circle for me.
PONYBOY:   That's a great story. Who would you say musically influences WYLDLIFE as a band?
WYLDLIFE:   The usual suspects, all of the late 70s NYC dudes. The mid 70s FM gold sound. Early 00s Scandinavian rock. 90s BritPop. We won't use specific names, but most will have a good idea by this point.
PONYBOY:   If you could describe your sound, what would it be?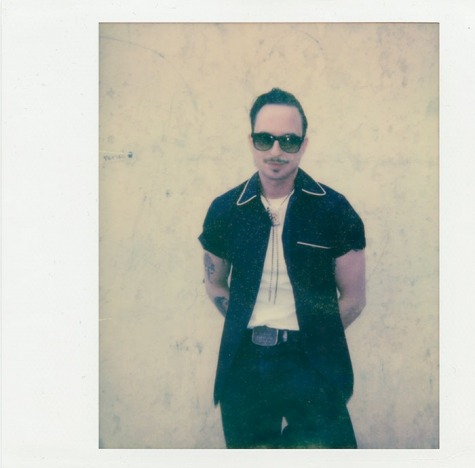 WYLDLIFE:   Do you know the scene in Robocop when RoboCop shoots the guy in the dick? We're the music equivalent of that.
PONYBOY:   Ha! Ha! Good answer. Things are obviously unstable with the Coronavirus at the moment, and who knows when things will get back to normal. Are there any plans to tour in the not so distant future?
WYLDLIFE:   Yeah, we had a quick little 2 week run, that we were going to start promoting the record with slated for May, but that's gonna have to get pushed back. But rest assured, it will get rescheduled and we'll be hitting the road as soon as we can.
PONYBOY:   Thinking ahead, how do you think the virus will affect the music world, and record sales/touring/ performing?
WYLDLIFE:   Oh, it's all so fucked. The good news about living in a digital age where most consumers of music are streaming this shit anyway is that a quarantine still allows for people to get access to new music. This would be way worse if people had to wait in line at Sam Goody to get a band's new fucking CD. But still, we've had to try and be extra creative as far as promoting this album since we can't play live shows leading up to it, and of course, our release show got canceled. WYLDLIFE has never been a band that kills ourselves touring. But even for us, where touring isn't a huge part of our financial livelihood, it's still a massive opportunity to market ourselves and spread the word. We don't know when this will be over, but when it's over, it's on. Bands are gonna be hungry to play and fans are gonna be thirsty for autographs.
PONYBOY:   Indeed. We miss going to live shows and seeing all our musician friends/bands during this tough time. Tell us about the latest video that you have planned for this new record. Who directed it and when can fans expect it?
WYLDLIFE:   Yeah, we have a video coming out for the first single on the record, "Kiss & Tell". Right now we're just waiting on a good website to host the premier for it, so we can get some good foot traffic. But it will be available within the next week. Our friend Randy Slavin directed it. He shot the City of Inbreds music video back when we were baby-faced cherubs. This one is a little bit harder-edged. The four of us running around like idiots in front of a green screen, dressed as superheroes and soldiers. It was a ton of fun to make and I think people will have a lot of fun seeing it.
PONYBOY:   We can't wait to see that. Who are some of the local bands in the NYC area that you're fans of?
WYLDLIFE:   Dirty Fences, Brower, Baby Shakes, Trash Bags, Tommy Volume, Royal Hounds, Daddy Long Legs.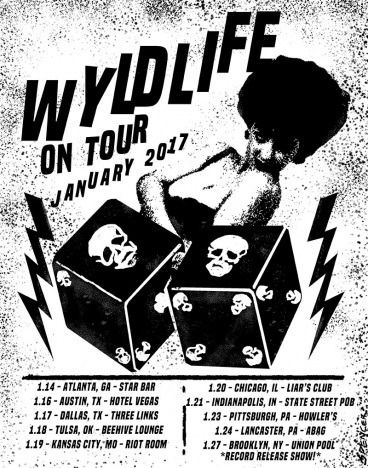 PONYBOY:   Great taste. What direction do you see the band going in next? Have you started writing new material?
WYLDLIFE:   Nah. We're gonna ride the material off this for a bit before we start on the next record. We only put out an album every 3-4 years anyway. So we're just gonna go surfing for a bit and hang out at my moms until then. There's never a direction we head towards, it's all just rock music to us.
PONYBOY:   As a band, what would you say that drives you to write, record and perform? What's the band's mission at the end of the day?
WYLDLIFE:   This is coming from me (Dave), but in terms of recording and performing, I've said that if 30, 40 years from now, some kid is in a record store and finds a copy of our records in the dollar bin, and his friend says, "You should buy this.", I'd be hyped. So little, if anything, in the world has any real permanence or importance. You're destined to die and be forgotten. Since you only go around once, you may as well have some fun. Once this stops being a thrill, we'll stop doing it. So far as writing goes, this is all still cheaper than therapy.