RILEY PINKERTON
"RAT QUEEN"
Riley Pinkerton is a fantastic frontwoman, the high priestess for New York City's "Medieval Fantasy Doom Metal" band known as Castle Rat. With a head of gorgeous big curls and knockout rock and roll looks, she turns heads on and off the stage with her presence and talent. Music is in her genes with a seasoned musician father who toured the world with the likes of Cyndi Lauper in the early '80s. Music is her inevitable destiny. Worship at the altar – long live the RAT QUEEN!
Photography Alexander Thompson.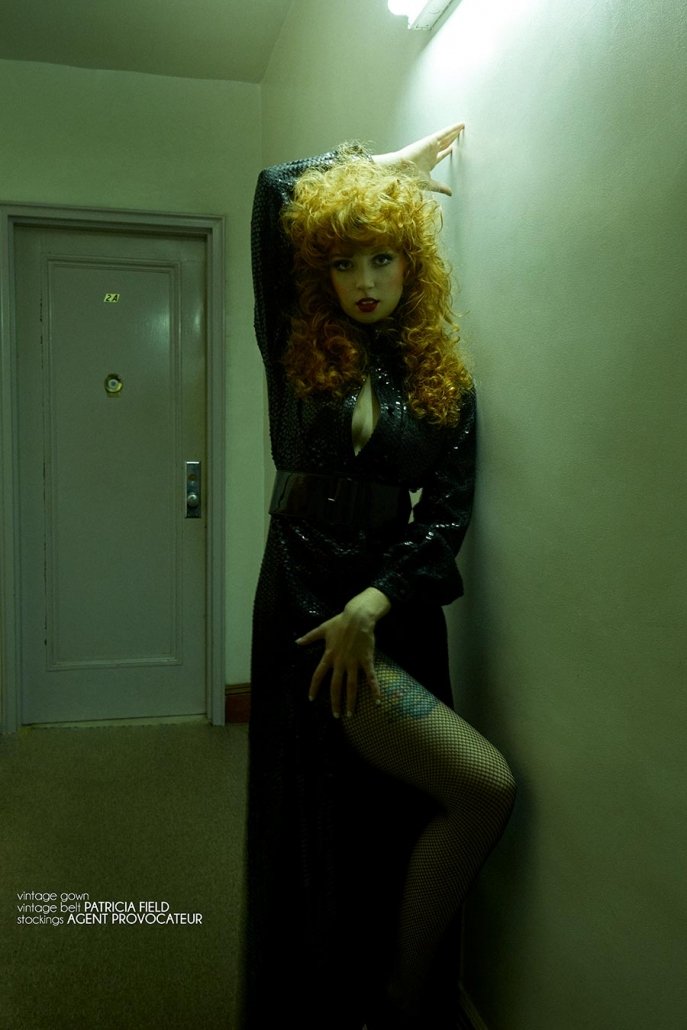 PONYBOY:  You're lead vocals/rhythm guitar, the self-described 'Rat Queen' for New York City-based band Castle Rat. How did the band come about?
RILEY PINKERTON:  I had started out playing folk music as a teenager, but into my twenties the music I was writing was getting progressively heavier. I had been performing under my own name with a full band, until realizing it was time to create a project with its own identity. Thus, "Castle Rat" was conceived and I've been working to expand its universe ever since.
"Rat" was a nickname of mine since childhood thanks to my front teeth (when I was eighteen I painted a giant rat wearing a crown holding a family crest on the hood of my first car — which had vanity plates that read: "THE RAT"). So it felt very natural to step into the role of 'The Rat Queen' for this endeavor. We played only a couple shows without costumes until a Halloween show at Saint Vitus in 2019. Our lead guitarist Henry urged us to dress up for the show. I scrambled to pick out characters for everyone: Henry is tall and lanky, I figured he would make a good vampire. I knew I was going to be the Rat Queen and ended up wearing a children's renaissance costume dress I found at a thrift store. I transformed our bassist into a Plague Doctor, and our drummer at the time dressed up as a WWII Sergeant. I decided I needed an arch nemesis to battle onstage, so I made a big rat-skull mask out of paper-mâché, creating the plague-bearing Rat Reaper, complete with a tablecloth cloak and a hockey stick scythe. I put my partner at the time inside.
Each of my bandmates came up to me after the set and said "That was so fun… can we do the costumes every time?!". I agreed wholeheartedly, leading Castle Rat to grow into the beast it's become.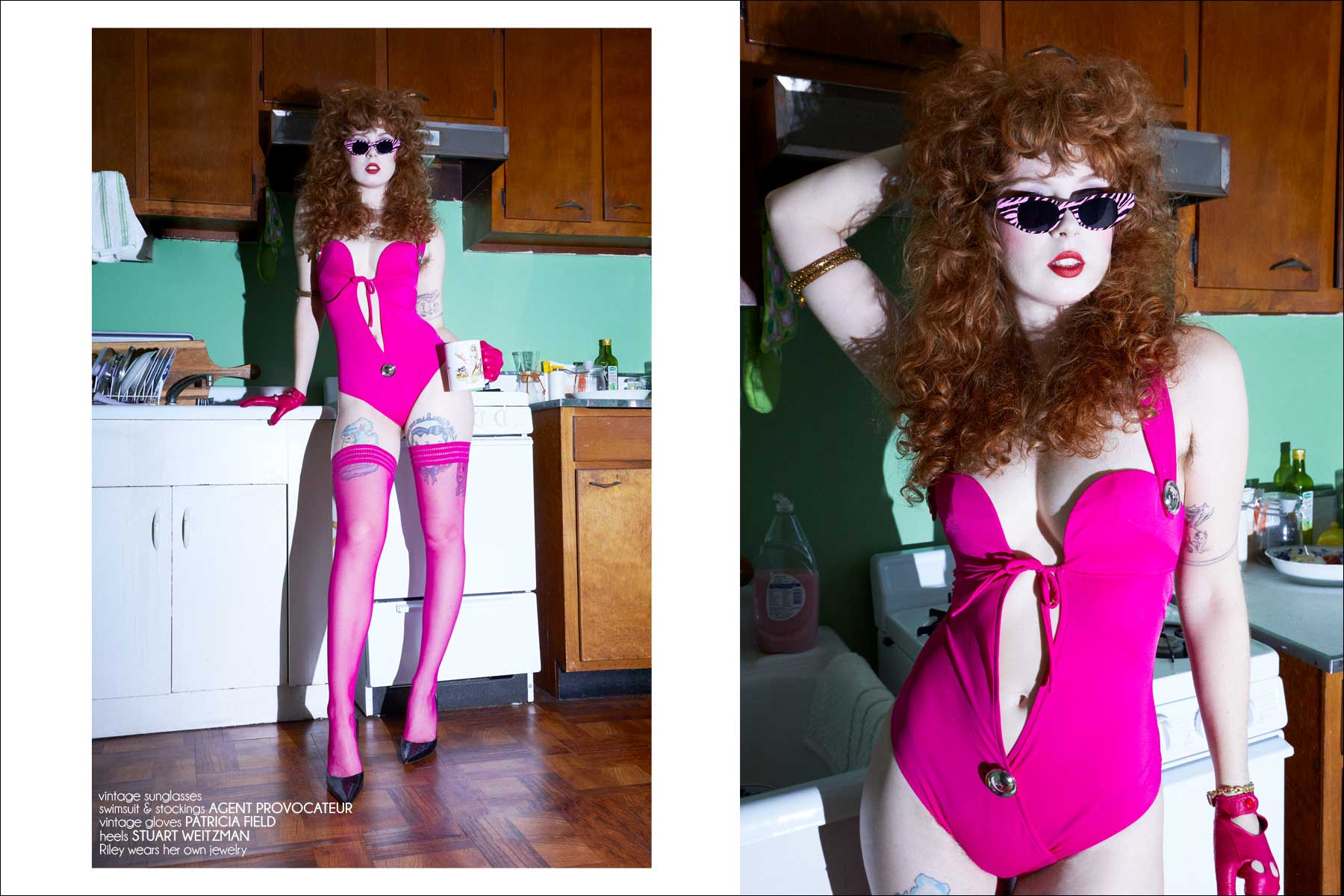 PONYBOY:  Describe the concept/music behind Castle Rat for anyone who is not aware of the band.
RILEY PINKERTON:  Castle Rat is a Medieval Fantasy Doom Metal band led by The Rat Queen on a mission to expand and defend 'The Realm' from those who seek to destroy it. The Rat Queen is joined on this mission by The Count, The Plague Doctor, and The Druid. Our arch nemesis, The Rat Reaperess, is in constant pursuit of a soul to reap in order to restore balance to the Underworld, after The Plague Doctor used a forbidden potion to resurrect and transform The Count into the immortal Vampire he is today…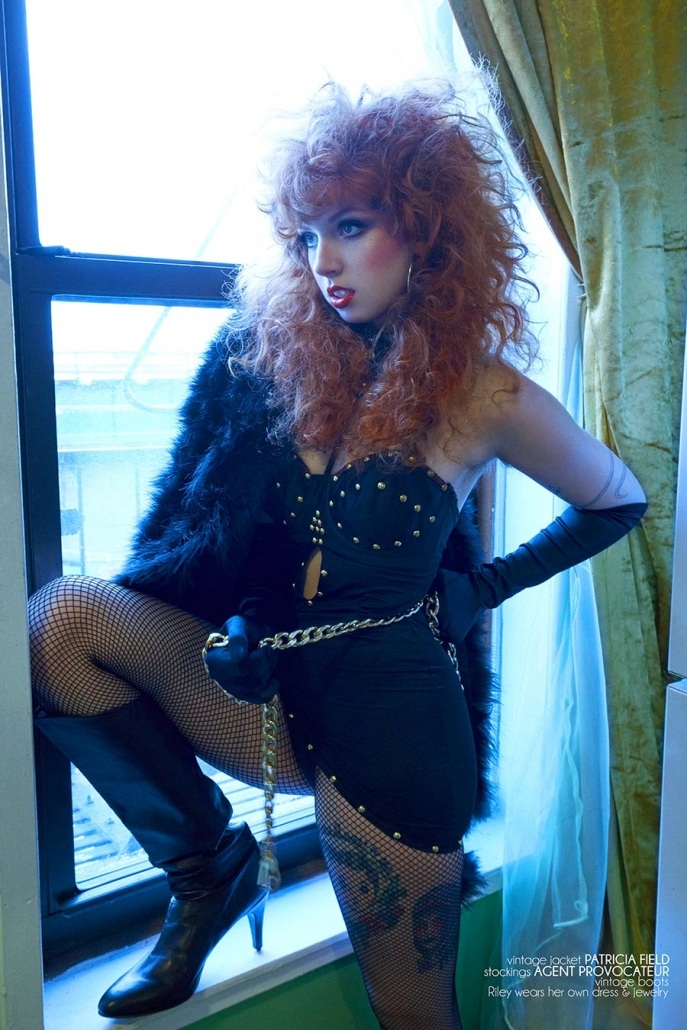 PONYBOY:  Who are the members of the band?
RILEY PINKERTON:  Henry Black as The Count on lead guitar, Ronnie Lanzilotta as The Plague Doctor on bass, Joshua Strmic as The Druid on drums, and Alexandra Blair as the Rat Reaperess.
PONYBOY:  Your father is musician/guitarist John McCurry, who's worked with top-notch acts including Alice Cooper and Cyndi Lauper. What was your upbringing like? Did he encourage you to be a musician, teach you how to play guitar?
RILEY PINKERTON:  For the earlier part of my life I'm afraid I didn't get the chance to spend much time with him, as much as I idolized my super cool rock and roll dad. He was out touring for most of my early childhood and after my parents divorced my mom and I moved from the East Coast to Michigan to be with her family, while my dad stayed in NYC.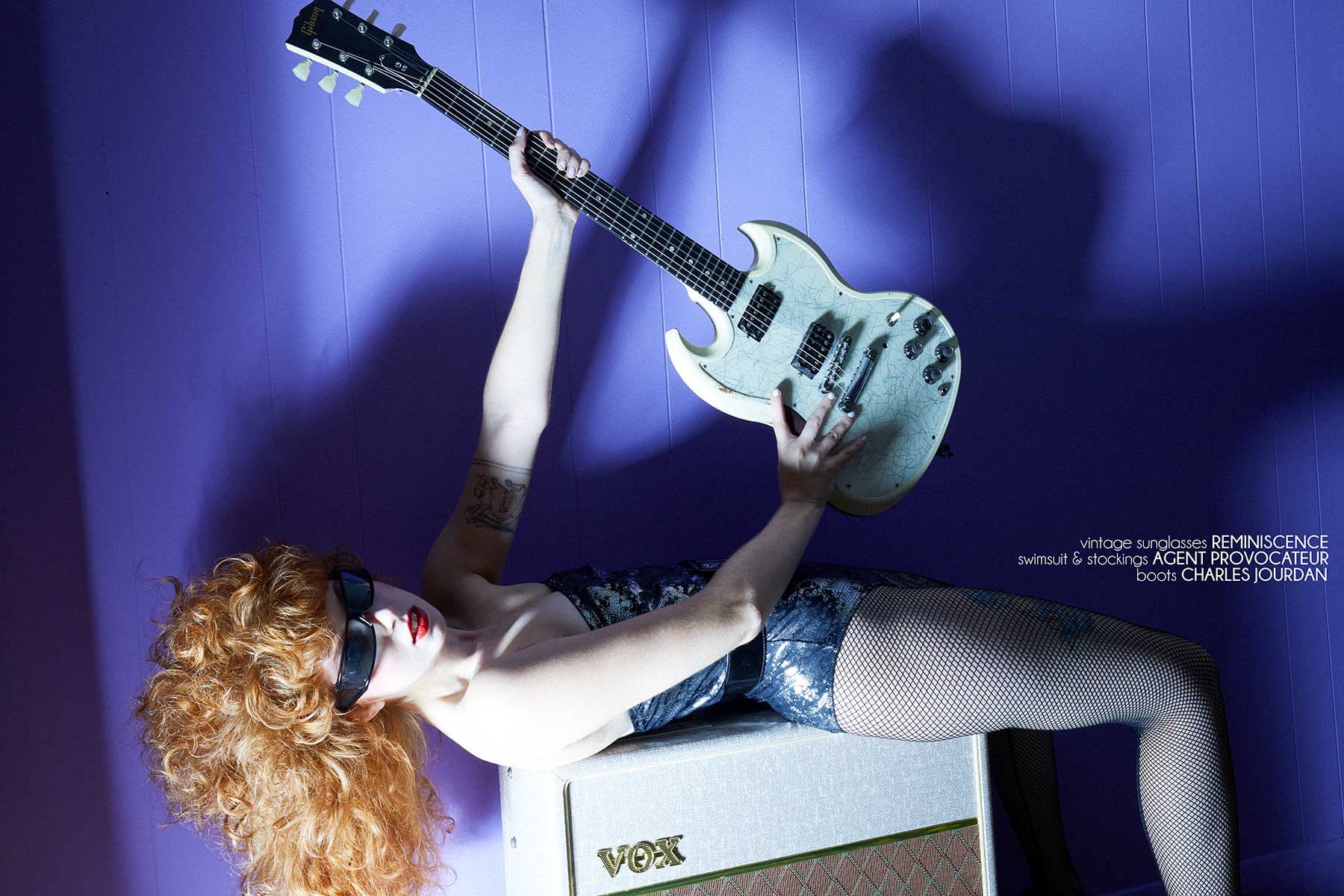 When I was about fifteen I taught myself to play on acoustic guitars I borrowed from friends. My mom always said I looked just like my dad when I played. He came to visit briefly around that time and bought me my first acoustic guitar and taught me how to play "Blackbird" by The Beatles.
Later in my teens, he got me a Gibson SG for Christmas (still my guitar of choice to this day). He's always been as supportive as he could be from a distance – which, looking back, was perfect because I was always too stubborn to ask for help anyways! Haha!
Now that I live in NYC we're much closer and get to spend a lot more time together, which I really cherish. He and his longtime girlfriend Sarah (of 'Lady Alice') come out to a lot of our shows and are super supportive and it means the world to me.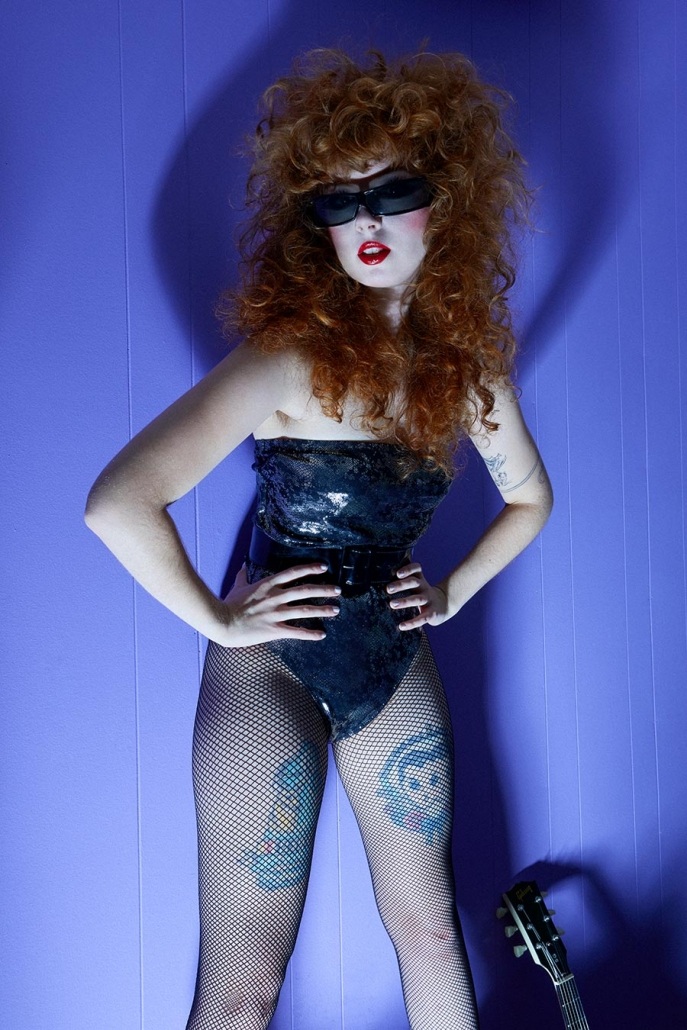 PONYBOY:  Do you write the lyrics for your songs?
RILEY PINKERTON:  Yes. I write all of the lyrics, melody and music for all of Castle Rat's songs (very quietly at home). I then bring the finished songs to the band and let everyone bring in their own magic to flesh them out.
PONYBOY:  The band has a recent single out – "Feed The Dream", the first single in a series of upcoming releases, as well as an accompanying video. Tell our readers about the song, as well as the concept behind the video.
RILEY PINKERTON:  "Feed The Dream" was written in isolation. It's the longing for the closeness of a creature that does not exist in the physical realm. It's the act of turning a fantasy over and over in one's mind until its very existence becomes a lustrous pearl of questions that need not be answered.
The official lyric video for "Feed The Dream" was created by visual projection artist Kathryn Barnish (aka Digital Witch) and Nico Astudillo using VHS footage that Kat shot at a recent show of ours.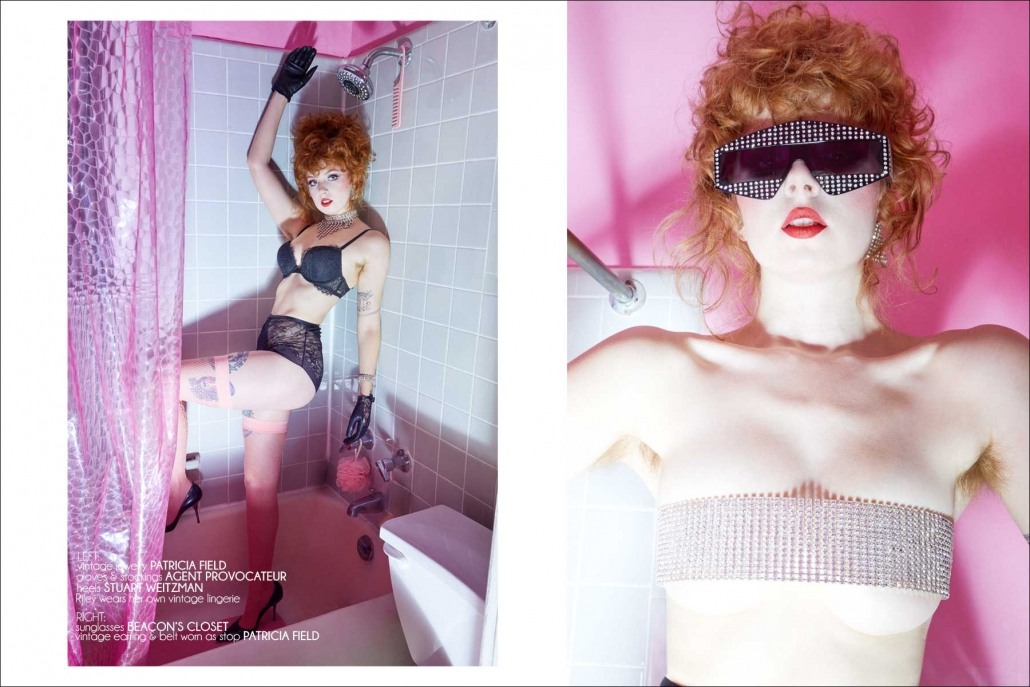 PONYBOY:  When can fans expect a full-length debut album from Castle Rat?
RILEY PINKERTON:  We have a finished album ready to go, but are waiting on the right label to team up with for a proper release. Unfortunately no set date for the time being.
PONYBOY:  What's the recording process been like for this album?
RILEY PINKERTON:  We knocked all the tracking out in about three days, recording the full band live in a 150-year-old abandoned church in Philly with Davis Shubs and Thomas Johnsen. Had a delightful mixing experience with Rafferty Swink where I felt very 'heard'. Everything was mastered by JJ Golden at Golden Mastering. I am very, very thrilled with the record we've made.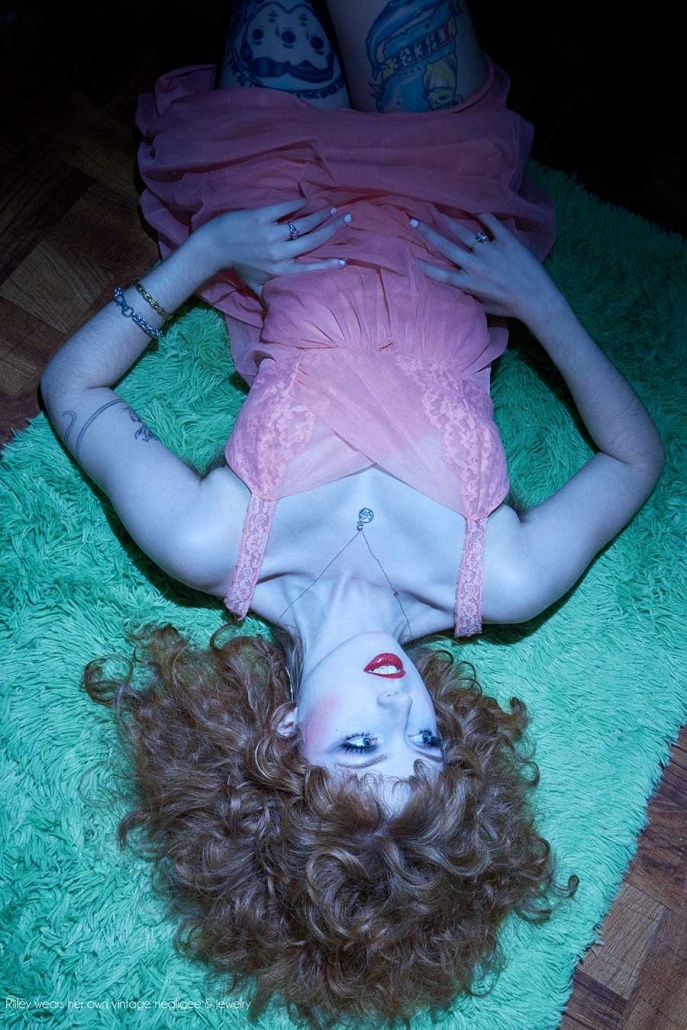 PONYBOY:  Who would you say are some past musicians that have inspired your evolution as both a teen and an adult?
RILEY PINKERTON:  My first time hearing Black Sabbath really changed everything for me, even though I still continued writing and performing folk music for a few years after, I was listening to Sabbath the whole time. It's been very rewarding shifting into a sound that more reflects the inspiration they've provided. I've found that both listening to and making heavier music has brought me a lot more joy than folk music ever did.
I love Sleep, Electric Wizard, Motörhead, Hawkwind, Sam Gopal, Mercyful Fate/King Diamond, Alice Cooper, Led Zeppelin, and Pink Floyd. I'm a huge Nick Cave fan and have a very tender place in my teen heart for Nirvana. I have to give a shout-out to Phil Duke for inundating me with live videos of KISS when we lived together, which definitely greatly influenced the creation of Castle Rat as its own universe with its own characters and backstory, (also… I love their album 'Dynasty').
My absolute earliest, strongest memories of music are of The Beatles (thanks, Dad!) and I feel they have always influenced my songwriting regardless of what genre I'm working in.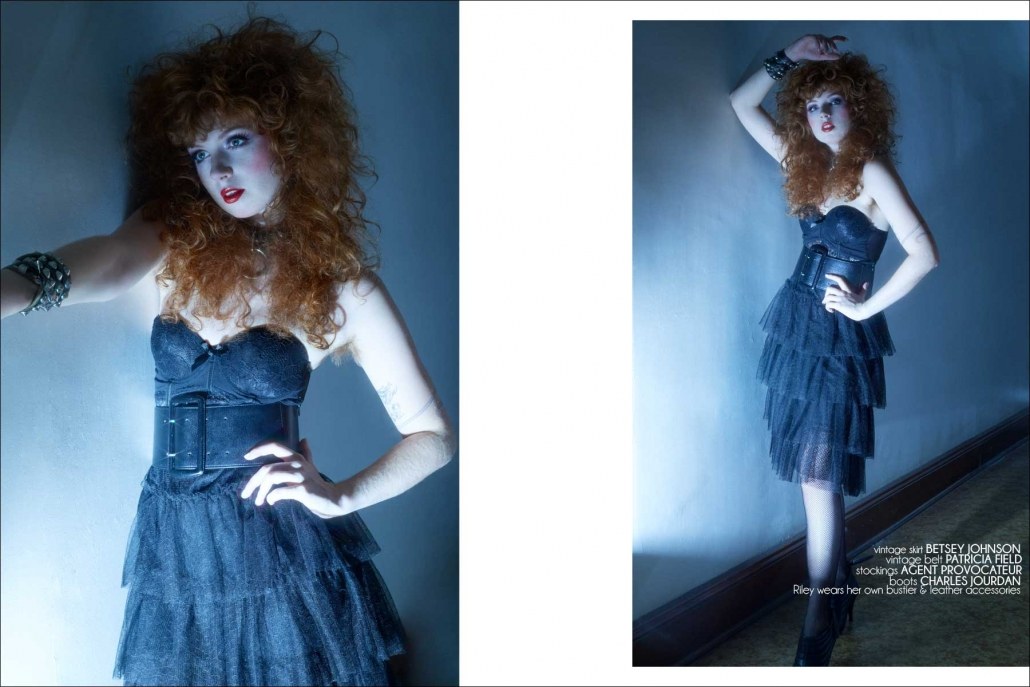 PONYBOY:  What local NYC bands are you a fan of?
RILEY PINKERTON:  Joudy, Certain Death, Reverend Mother, Big Girl, Evolfo, Tower, Bad Vacation, and The Silk War.
PONYBOY:  Where do you enjoy seeing live bands in New York City? What venues does Castle Rat enjoy performing at?
RILEY PINKERTON:  I like going to TV Eye best. I feel very comfortable there. To be honest, I sometimes get very overwhelmed going out to shows these days, so having a lot of space in a venue to wander around is important to me, and TV Eye has that AND great tacos (shoutout to Ross of Barker & Sons)!
We most recently had an amazing single release show selling out The Sultan Room in Brooklyn, (we co-headlined with Evolfo, with Wine Lips and Joudy on the bill). Performing at LPR in Manhattan opening for Monolord in March was a real treat – great sound. I've also enjoyed our couple of shows at Saint Vitus for the same reason.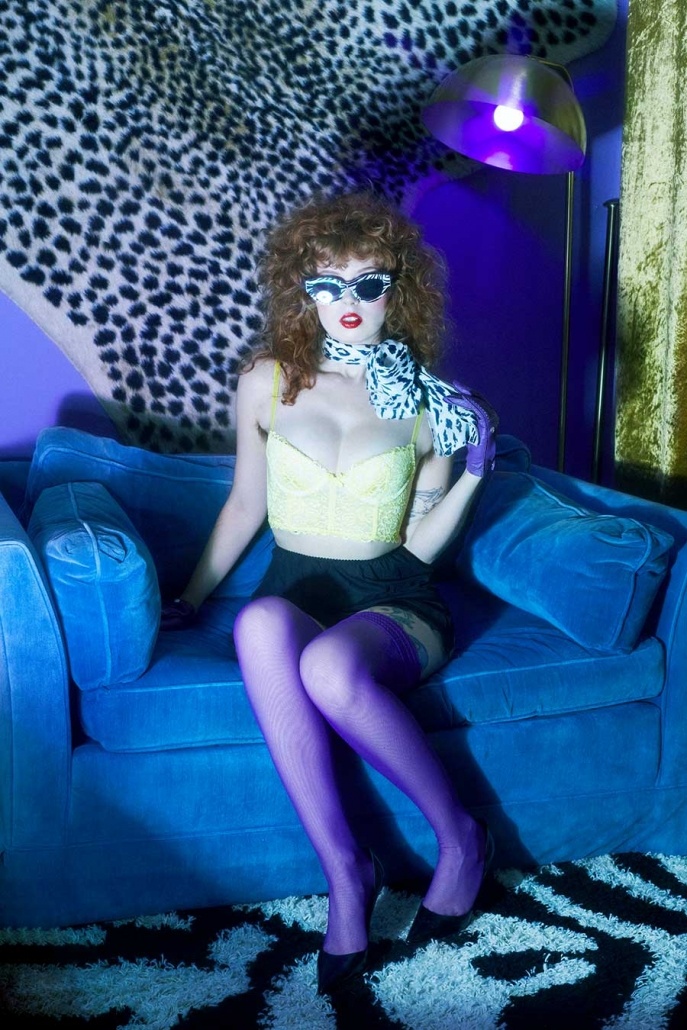 PONYBOY:  Tell us about your day job, working at The Great Frog in both Soho and the Lower East Side. We love their jewelry. You seem like a perfect fit.
RILEY PINKERTON:  It's the best "day job" I could ask for – my boss and coworkers are all wonderful, cool, supportive, and kind people, which makes all the day-to-day stuff pretty breezy. On top of that, I genuinely love the brand, the jewelry, and the legacy; all of which naturally brings some really cool folks through the doors who in turn I get to chat and connect with. It's been an absolute treat growing into my role there. It's not someplace I was planning to be – I more or less stumbled into the gig, but I kinda feel like it was meant to be!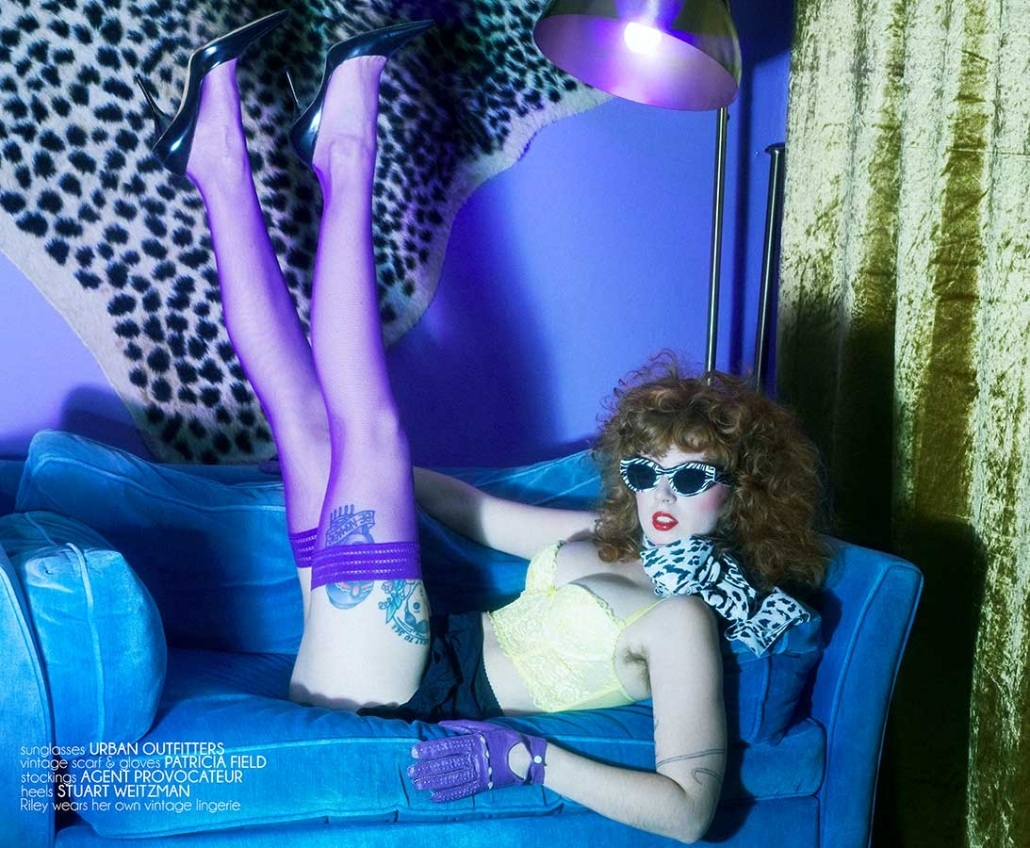 PONYBOY:  You recently modeled for Jefferey Campbell's Instagram shoe campaign. What was the experience like?
RILEY PINKERTON:  It was great. Anna Nazarova was the photographer with Brigitte Campbell as creative director/stylist. They were both wonderfully down-to-earth and so easygoing. I think we all had a lot of fun on that shoot and made some great images AND I made off with some amazing shoes!
PONYBOY:  You make your fantastic, eclectic stage outfits. Where do you get the inspiration for your costumes? Do you have a background in clothing design?
RILEY PINKERTON:  I've had a lot of fun with character design and drawing up concepts and seeing what I can physically manifest. I handmade my chainmail during the pandemic (something I don't have any interest in doing again) and sewed my costume from scratch. I don't have a background in clothing design, but I've always been artistically inclined and driven to see what I can create given different mediums. I made the Rat Reaperess mask out of papier-mâché and its hood out of a tablecloth, and pieced together most of everyone else's costumes from thrift stores and/or heavily altered accessories from Halloween shops. Castle Rat has been a very fun way to express myself creatively on multiple levels, not just musically.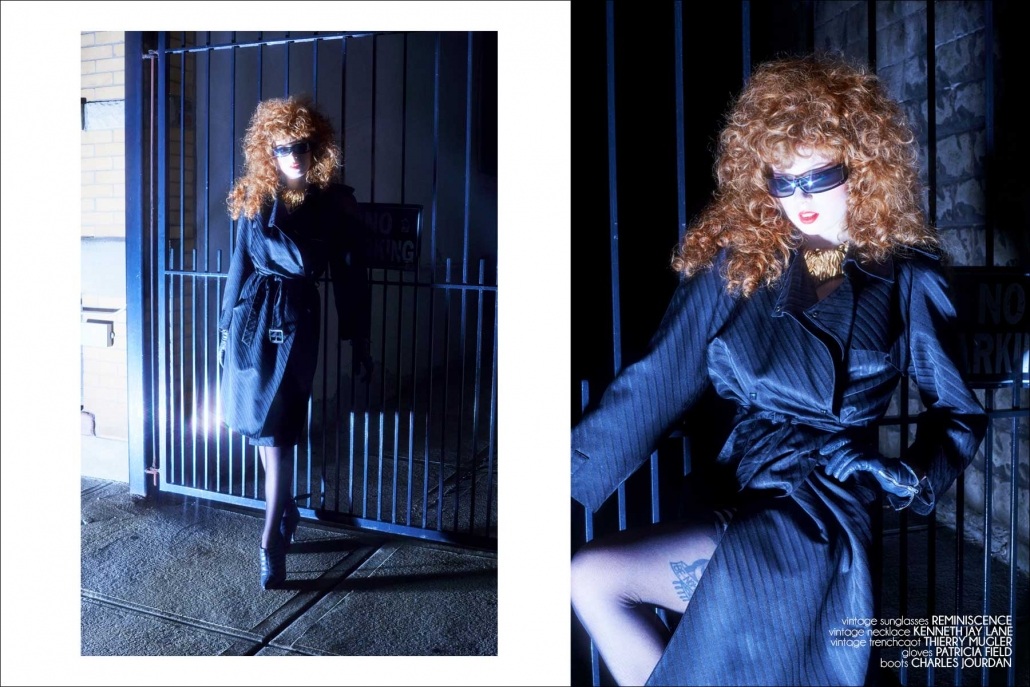 PONYBOY:  Are there any designers/labels that you're a fan of?
RILEY PINKERTON:  To be honest almost everything I buy is thrift/resale/vintage. I've never really gotten into designers/labels, don't know much about that world.
PONYBOY:  What can we expect from you and Castle Rat in the near future? Any touring on a national level? More videos?
RILEY PINKERTON:  In our most immediate future we'll be shooting a music video for an upcoming single, set to be released in January if all goes according to plan. I am very, very excited to work on a music video with a narrative. Castle Rat is intentionally a very visual experience and I've been looking forward to getting a chance to do something like this for a while.
I'd love to hit the road and tour a bunch but that may or may not have to wait for an album release. Regardless, we're going to be making a point to hit some of the surrounding cities in our area this spring.