UNI AND THE URCHINS
"POPSTAR SUPERNOVA"
UNI AND THE URCHINS ARE TRANS-HUMAN-GLAM-ART-PUNKS, IMBUING SPLICED TAPE AND FILM AND OBSOLETE TECHNOLOGIES WITH THEMES OF GENETIC MODIFICATION AND ARTIFICIAL INTELLIGENCE. AS ZIGGY LOOKED TO THE SPACE RACE AND MOON LANDING AS DEFINING ZEITGEISTS OF HIS TIME, UNI LOOKS TO THE SINGULARITY AND THE HORIZON OF VR SWALLOWING ALL FLESH. THEY WEAVE ACROBATIC MELODIES AND ORCHESTRAL ARRANGEMENTS WITH GRUNGE GUITARS AND INDUSTRIAL BEATS, AND THEIR DEBUT ALBUM BOASTS BEING "GENRE-LESS" OR "NEURO-DIVERGENT POP."
Photography alexanderthompsonphotographer
Makeup ahbinishman
Hair addamartist
CHARLOTTE KEMP MUHL:  When you were a little boy, what hammy routines would you do in the mirror or for your parents to practice for being a "popstar"?
JACK JAMES BUSA:  There actually was this one time I did a Bob Fosse chair routine to a room full of elderly conservative Texans at my grandmother's brain surgery party (yes, you read that right). I gave it the ole razzle dazzle and expected applause but was met with "Billy Jr, your boy ain't right!" and a stone cold silent car ride home. I spent most of my adolescent nights quietly learning the dance routines of Y2K pop icons but for some reason, my elementary school wouldn't let me perform I'm A Slave 4 U at the talent show…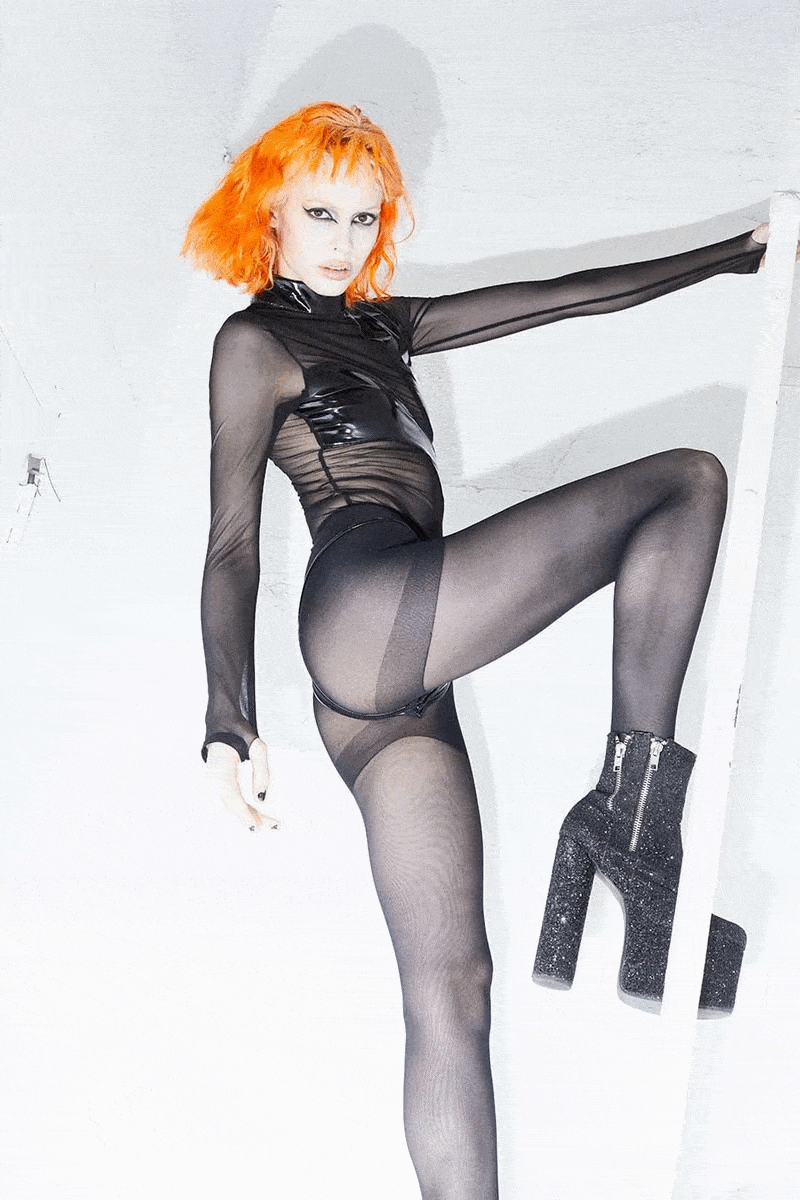 JACK JAMES BUSA:  Directing is nearly impossible with mammary glands in the way- as we've discovered through rigorous research at IHaveAPenis Laboratories. Given that, did you shoot the video vertically as an artistic choice or was it an ovarian oversight?
CHARLOTTE KEMP MUHL:  Which is why I had my mammary glands removed and replaced with crypto mining solar panels. This turned out to be the first vertical 16mm analog film video ever made by total accident, given that my vapid influencer instincts made me turn the Arri camera on its side and use it like a cellphone.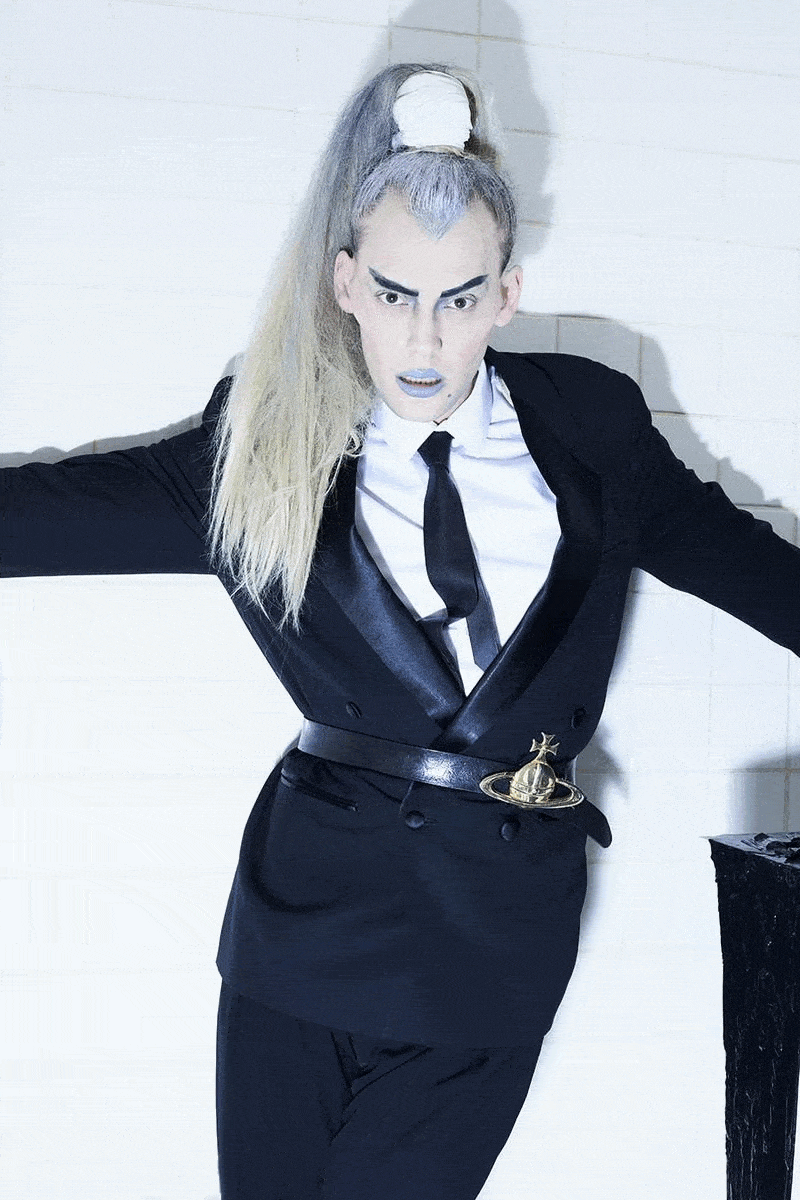 CHARLOTTE KEMP MUHL:  If you had the chance to be on the elite rocket ship and go to a 5-star mars colony leaving your friends behind, or stay back on earth in poverty and dustbowls with your family, what would you choose?
JACK JAMES BUSA:  If they can't get into the 5-star Martian colony, they're probably not my friends… hehe. That's a tricky question. In my heart of glass I'd probably be a good boy and stay and then resent my choice while living out my post-apocalyptic Scarlet O'Hara fantasy… "as the Simulation overlords as my witness, I'll never go hungry again !!"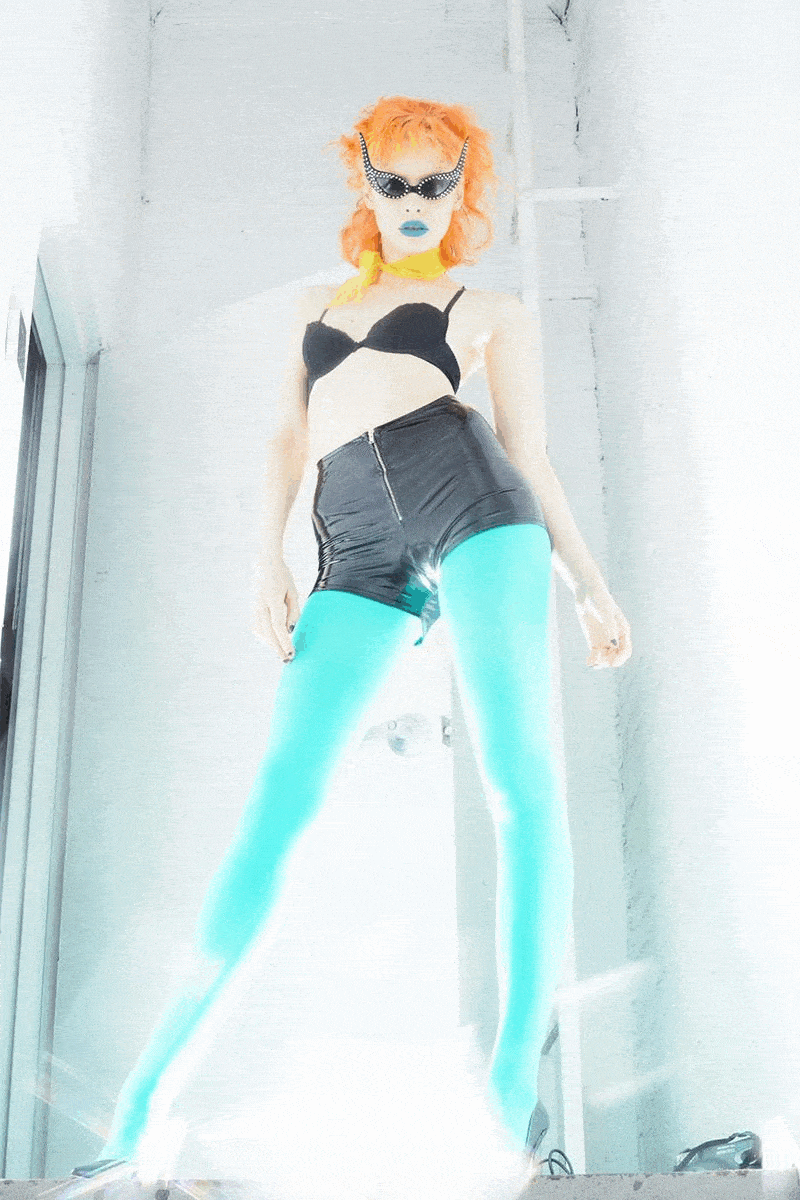 CHARLOTTE KEMP MUHL:  Ok Jack, be honest. If you were actually a popstar, what terrible ways would fame change you and what early death would befall you?
JACK JAMES BUSA:  Oh man, my messiah complex would have a field day with that one!! Inevitably, I'd hit rock bottom and either come out the other side as a born-again Christian or end up in Vegas doing Joan Rivers impersonations. Death? Hmm, I'll probably just trip on something.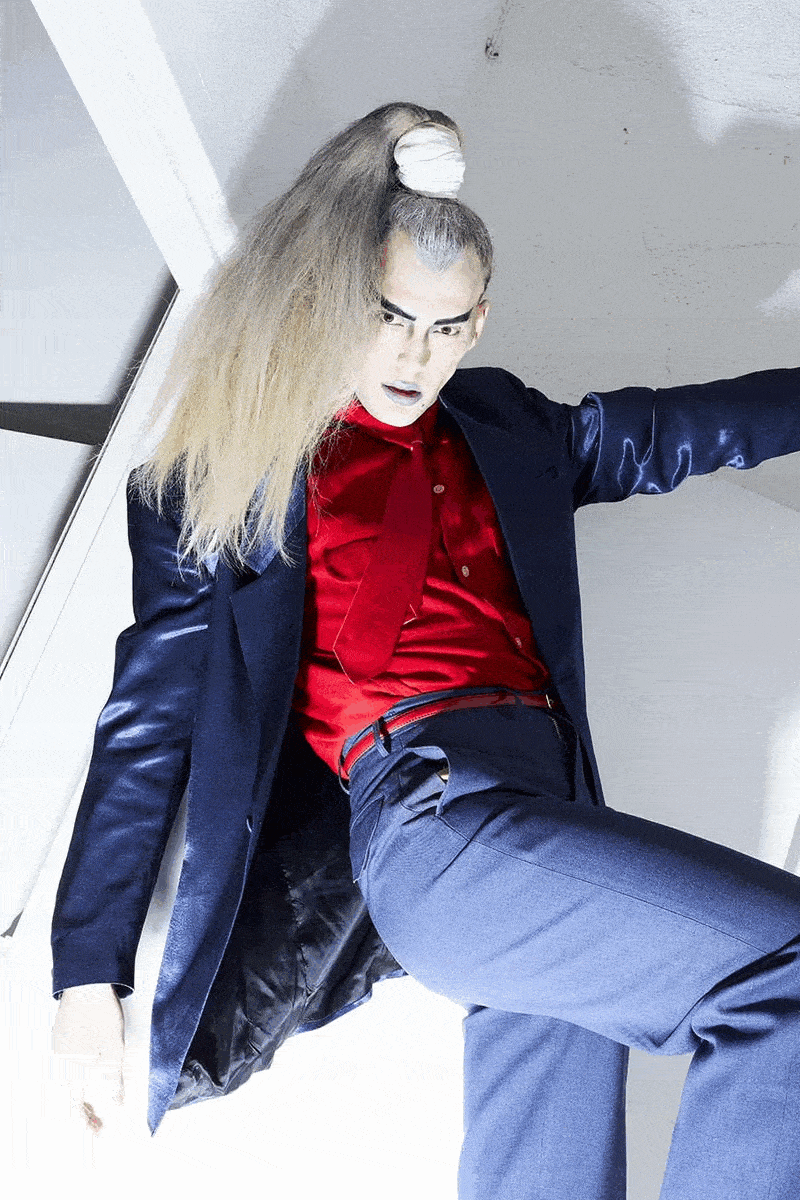 JACK JAMES BUSA:  If I could name a planet, I would call it; AHHHHH!!! If you were to name a planet, what would you call it?
CHARLOTTE KEMP MUHL:  Westley Snipes.
Do you think humans will ever escape earth or just destroy ourselves in nuclear war? If we did go to other planets, what sci-fi movie do you most think it would resemble?
JACK JAMES BUSA:  I think we'll fly off in platinum pods and take psilocybin and listen to the Barbarella soundtrack on loop as we drink scotch with the cosmic crooners. Or it'll be like.. really sad and not sexy. Sometimes, you have to trust the future will be a little sexy.
JACK JAMES BUSA:  Do you think aliens are observing earth and if so, what do you think they thought about the making of our new music video?
CHARLOTTE KEMP MUHL:  I think the Greys were watching through a hyper-dimensional periscope and were DEFINITELY perturbed by the lack of nipples in this Uni vid.